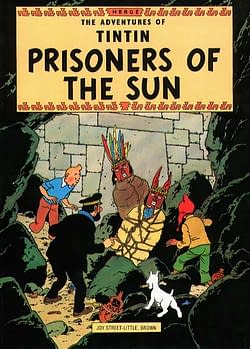 I didn't much like The Adventures of Tintin: The Secret of the Unicorn, and neither did my guests to the screening. We all found different plot holes, were all put off by different aesthetics and all had some issue or another with the action sequences. In short: there's plenty in this film to put off everyone.
Disappointing, seeing as Steven Moffat, Edgar Wright and Joe Cornish were behind the screenplay. I'd be really interested in seeing what they actually put down on paper and if it was in anyway different from what ended up on screen.
We've known for a while that Anthony Horowitz had been tasked with writing the subsequent installment, scheduled to be Peter Jackson's next film after The Hobbit. Until now, however, we believed that the plan was for film two to realise an adaptation of Herge's The Prisoners of the Sun.
Not so. Here's Horowitz, talking to the BBC:
I can tell you that I think the second film is not going to be Prisoners of the Sun. What it is going to be is still under discussion. I've had meetings with the directors and producers and we've talked about ideas and action sequences. At the moment I'm trying to put together a story that will please everybody. It's a very difficult one to do.
And what of his already-developed Prisoners of the Sun screenplay?
The good news is if [Prisoners Of The Sun] is not the second film it'll be the third film so actually I could end up with two Tintins under my belt.
There's no known greenlight for any Tintin sequel but judging from the European box office for chapter one, I'd imagine it's all but inevitable.
Enjoyed this article? Share it!