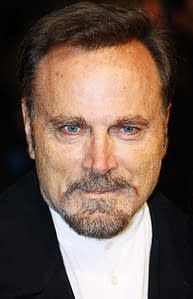 Last Friday, we learned that Tarantino's single-movie version of Kill Bill was getting geared-up for a week-long engagement at LA's New Beverly Cinema. In the Aint It Cool talkback on that subject, the site's Mr. Beaks chipped in with:
And Tarantino's next project is quietly coming together behind the scenes. Hope to have something to report soon. I predict most people will be very happy with it.
Meanwhile, news was getting about in Italy, regarding a new Spaghetti western that would somehow involve Tarantino's contribution. Was this the same film?
Movieplayer (via The Playlist) have some quotes from actor Franco Nero on the subject of this film. I've put them through Google Translate:
My next project will be a western, but not in Italy. Here it is hard work.

The film will be called The Angel, The Bad and The Wise* and is a tribute to Sergio Leone. It 's a movie that contains humor, lots of action, but also a great plot.

We have already been signed by a dozen people who will be part of project. Among the filmmakers involved include Quentin Tarantino, Keith Carradine, Treat Williams, fifteen people in all. Americans who want to do this movie and so we are trying to produce it outside of Italy.
Now… you'd think that Nero would have singled Tarantino out somehow, if he were to be the director. My bet is that he's a member of the film's cast, maybe also a producer. There's a chance he's had some involvement with the script… but I remain doubtful he has the director's chair.
This could be the same project Mr. Beaks spoke about, whether or not Tarantino is directing. My hunch, however, is that Beaks and Nero are talking about different films entirely. First up, I'd expect, QT will act in The Angel, The Bad and The Wise, and then move on to direct his next feature – whatever it is.
But, as I said, that's just a guess. Stay tuned for more.
UPDATE: And more has come along already.
*The Angel, The Badman and The Something That Isn't Just "Wise" Because That Doesn't Scan And Probably Not "Wiseman" Either As That Would Be Too Close To Badman, surely?
Enjoyed this article? Share it!