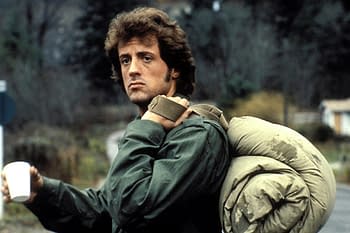 The new Conan the Barbarian has three credited screenwriters, including the team of Joshua Oppenheimer and Thomas Dean Donnelly, and Sean Hood. Doing the PR rounds to support the film, Hood has been talking about his other projects, including an in-development fifth film in Sylvester Stallone's Rambo franchise.
One of several fifth Rambos to have started along the path, but the one with current heat, superceding the previously rumoured drug cartel, prequel and genetically engineered hunter-killer plotlines. Nontheless, Hood told Empire that this fresh screenplay has been seeded with several bits of inspirational material:
I met with Mr Stallone twice last year… He gave me a book, an older screenplay, and about twenty pages he'd written himself to use as inspiration for the last chapter of the Rambo saga.

It's more in line with the small-town thriller of First Blood… Right now, as I understand it, [Stallone] has his hands full with Bullet to the Head and Expendables 2. But Millennium films did hire me to complete the screenplay and realise his story, and my hope is that he'll eventually be inspired to do one more Rambo film, with the tone of Clint Eastwood's Unforgiven.
And there's your hook, covered in barbs.
David Peoples' script for Unforgiven is an amazing work, not least for its elegiac, mournful tone. If Hood could capture that, and Stallone would respect it, we'd be at least walking back towards to where the Rambo series began. If he could also capture its depth of character, sense of time and place, rich thematic weave and sharp insights into genre, myth and archetypes then we'd really be talking.
These films have been pretty much dead to me since a few minutes into Rambo: First Blood Part Two and I realised what it was I was watching, and how little it had in common with the original First Blood. It never got better either, only got worse, and so lunky did Rambo's head become by the time part four rolled around, I think I could honestly say I was apalled by what I was looking at.
So, Mr. Hood, I'm crossing my fingers are rooting for you. You've got a chance to somehow honour First Blood with a sequel… just three sequels too late.
Enjoyed this article? Share it!