Greg Baldino writes for Bleeding Cool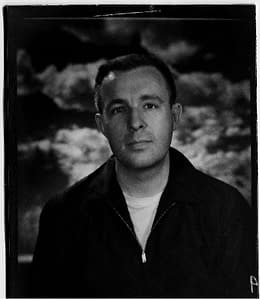 Some people spend their whole lives trying to break into comics. Very few have comics break into them.
Ray Bradbury is standing in front of a newsstand, looking over the periodicals. The year is 1952 and the summer heat is record breaking. Elsewhere on the stand is an issue of Colliers containing the first printing of his classic time-travel story, "A Sound of Thunder." The ink is barely dry on the type; it'll be some time before it becomes the most reprinted SF short story ever and the second milestone of time travel fiction. His best known work, the novel Fahrenheit 451, is a year off, still evolving from two earlier short stories. Looking through the comics, Bradbury picks up an issue with the boldly named Weird Fantasy, and among the stories printed in that issue, he finds a story of a boy wishing on a star for his father's return. The story rings with a theme fond in many of his own stories. In fact, it reads uncannily close to his stories. In fact it is his story. Two in fact, repackaged under a different title and published by EC Comics without his permission.
Some people get mad. Some people get even. Bradbury got clever, and sent a letter to the editors
Just a note to remind you of an oversight. You have not as yet sent on the check for $50.00 to cover the use of secondary rights on my two stories […] I feel this was probably overlooked in the general confusion of office work, and look forward to your payment in the near future.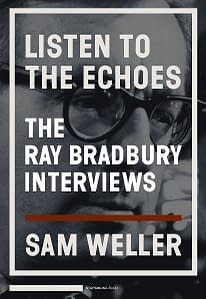 EC had already swiped stories from Bradbury several times, the letter gave them a way out of legal trouble and opened up a new avenue of revenue for him. EC began to publish authorized adaptations of his work, some two dozen stories.
You can't really call it 'Ray Bradbury's Entrance to Comics;' call it 'Comics Entry to Ray Bradbury.' Despite the many comics with his name on them, and despite having written for every other narrative medium including radio, he's never written an original comic script. Instead he becomes comic's locked room mystery, it's man who wasn't there. He can only be seen by his footsteps.
"In the end, Ray Bradbury is a prose writer," says Sam Weller, the author's official biographer on why he's never written an original comic script. "The answer, is simply that Bradbury would rather write short stories and have them adapted them, than write straight for comics. While he wrote a good many screenplays over the years (from the 1956 film Moby Dick to adapting his own novel Something wicked This Way Comes in 1983), he turned down way more screenwriting offers than he ever took. Why? Because he knew that no one ever remembered who wrote the screenplay. No matter how good that damned thing may have been. Same with comics. Outside of a few marquee names (Gaiman, Moore, Miller, et cetera,) names, comic book writers are largely lesser known."
Weller- whose book of interviews with Bradbury, Listen to the Echoes was published this summer by Stop Smiling Books- appeared at Comic Con with Bradbury this summer. It was not the author's first time; he'd been in fact at the very first Comic Con held back in 1970.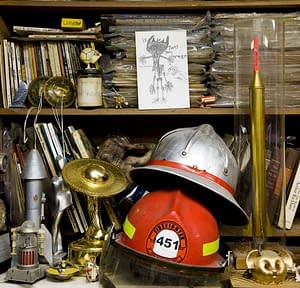 Although he's only ever been adapted in comic form, his stories have been brought to life by the pens of the very best from the past sixty years: Al Williamson, Wally Wood, Jack Kamen, Mike Mignola, Tim Bradstreet, Dave McKean, to name a few. After decades of his short stories being made into comics, his novel Fahrenheit 451 was adapted into a graphic novel by artist Tim Hamilton.
"I've loved Bradbury since I first read "Sound of Thunder" in 6th or 7th grade. I remember getting his book of short stories and reading through that book one summer and loving it! 451 I think we read in high school. I was a bit intimidated when faced with adapting this. I really thought, "Someone else should do this book!" But in the end I calmed down and did this book the same way I do any book. I look around at the art world. I look at what type of art would work best with the story I'm doing, what art would influence me. Ray Bradbury did not want this to look like "Blade Runner." He wanted a retro-future feel that looked a bit like the 1950's. So I went for 'retro future.' I looked at art Deco posters, revolutionary Russian Posters and illustrations from the 1950's. I love art history. I let those particular veins of art history feed me while designing and illustrating "451."

-Tim Hamilton
The influence isn't just felt on the page. Early on in his career, Bradbury's work caught the eye of a literary agent who sold his short story "The Pendulum" – The agent's name was Julius Schwartz, and he went on to become one of DC Comics most influential editors. Decades later, one of the first comic shops in England opens its doors with the name "Dark They Were And Golden Eyed," taken from the title of a Bradbury story. The shop sells an underground comic to a smooth faced young man from Northampton who grows up and grows his beard to become Alan Moore. In several interviews, Neil Gaiman has cited Bradbury as an influence and said that his graphic novel The Last Temptation was an attempt at writing a Bradbury story.
There's a point in October in the Midwest when the skies are perfectly blue, it's sunny enough to make every maple tree glow yellow or orange or red, there's a chill enough in the air to make you wear a sweater, but after a minute's walk you can't remember why you're wearing it, and you're walking in the tinted glow of a Bradbury story. –Neil Gaiman
Throughout the last half century of comics, the influence of Ray Bradbury is felt, whether by his works or by the man himself. He's one of the greatest short story writer's in Western literature, and as he approaches his ninetieth birthday the benevolent shadow of comic's guardian angel grows only stronger.
"His ideas are magical and memorable and metaphorical. Beyond just being great imaginative tales, they represent larger human truths. Much in the same way the Greek myths were on the surface exciting tales of quests and monsters and Gods, they were parables. In my estimation, Bradbury is the closest thing we have in contemporary literature to a modern mythologist. Plus, his stories are just damn cool. Towering Dinosaurs. Chrome rocket ships. Lovable vampires. I'm in!"

–Sam Weller
Greg Baldino lives and writes in Chicago, where he watches over the local comics scene like a posthuman autocrat. His fiction and journalism has appeared in many publications internationally. He can be contacted at greg.baldino@gmail.com.
Interior photos from Listen To The Echoes by Zen Sekizawa, courtesy of Stop Smiling Books.
Enjoyed this article? Share it!