Remembered, Remembered, The Fifth Of Novembered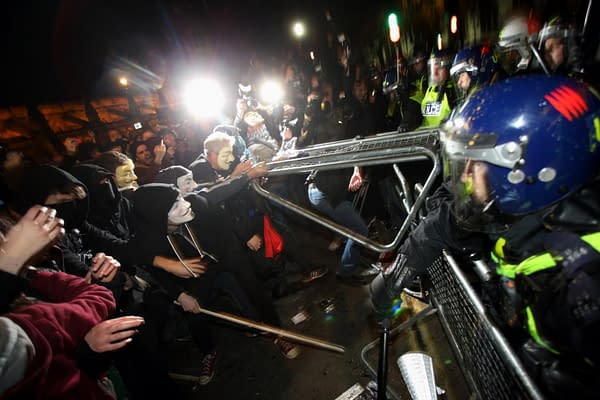 Remember, remember the fifth of November, gunpowder treason and plot. I see no reason why gunpowder treason, should ever be forgot.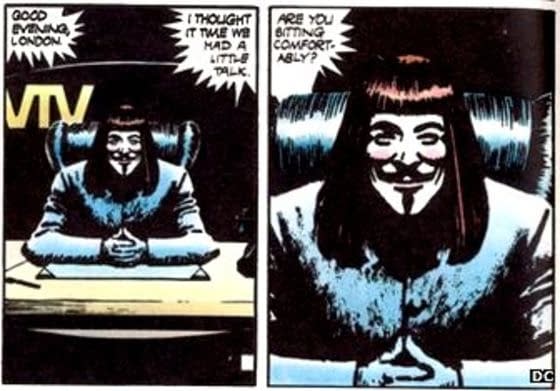 The Million Mask March happens today across the world. Protests by Anonymous and other groups against increased security, globalisation, capitalism, taxation, basically, whatever you've got.
And Warner Bros gets a royalty from each mask bought.
Because this is Bonfire Night and the cities will burn – figuratively rater than literally I hope.This includes my home city of London, naturally, when Guy Fawkes did his wicked deeds and the Million Mask March will be starting at 6pm tonight.
This November 5th, the Anonymous UK collective will again descend on central London.
We have seen the abuses and malpractice of this government, and governments before it, we have seen the encroaching destruction of many civil liberties we hold dear, we have seen the pushes to make the internet yet another part of the surveillance state, we have seen the government's disregard for migrants, for the poor, the elderly and the Disabled, we have seen the capital, profit and greed of the few put before the well-being of the many and we say enough is enough.

We invite all the activists, the workers, the students, all doctors, nurses and all those that want to see a positive change in the world, to join us, in Trafalgar Square from 6pm, November 5th. The government and the 1% have played their hand, now it is time to play ours.

Expect Us.

Million Mask March London
November 5th Resistance Campaign
Anonymous UK

**Information for the night**
– We openly invite everyone, please respect diversity of tactics

– The police are not your friends, this goes for police liaison officers too, they're simply a 'friendly face' who collect intelligence.

– Keep an eye out for your comrades and police tactics that will limit movement, the hive mind should stay vigilant.

– dress comfortably and wrap up warm

– face coverings are always optional

– bring banners flags and placards

– bring your voice and let it be heard!
Though protesters can sneak off to Leicester Square to watch V For Vendetta at the Prince Charles Cinema if they wish.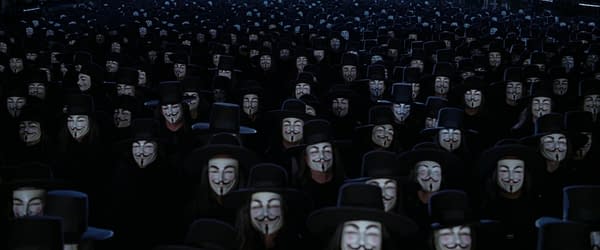 A spinoff group of protesters will also protest outside against the UK government outside the Ecuadorian embassy, where Wikileaks founder Julian Assange is seeking refuge from extradition. Also in Guy Fawkes masks, they will have the added look of being clad in black robes and full white judges wigs. Should be a sight.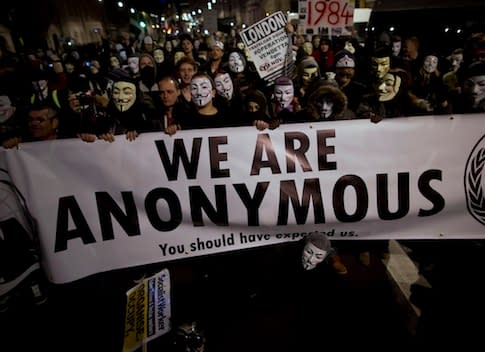 The London Metropolitan Police have issued the following statement,
The Metropolitan Police Service (MPS) is urging anyone who has an organisational role in this week's Million Mask March to contact police ahead of this Thursday's advertised action.

Over the last three years this has developed into an annual event. However, the night has been marked by significant levels of anti-social behaviour, criminal damage to monuments and buildings, attempts to take over buildings, harassment of motorists and attacks on police officers.

Chief Superintendent Pippa Mills, from the Metropolitan Police Service said:

"We will always facilitate peaceful protest and have a strong history of doing so. However, over the last few years this event has seen high levels of anti-social behaviour, crime and disorder.

"This year we have strong reason to believe that peaceful protest is the last thing on the minds of many of the people who will come along.

"Last year hundreds of people on their way home from work, or out enjoying an evening in the Capital, were surrounded by people causing them huge concern. Buses were physically rocked, people jumped on car bonnets, as well as serious disorder in central London and damage to a number of buildings.

"We have such serious concerns about a repetition of such criminal behaviour this year that we have made the decision to impose conditions under the Public Order Act on the event on Thursday, 5 November."

A significant policing operation will be in place for the duration of the event.

The last three years of policing this event has proven it to be a difficult and challenging operation for the MPS. There is no identified organiser, no identified route and no objective.

Chief Superintendent Mills, concluded: "This Thursday will be a busy night in London. People have the right to go home from work, shop, visit theatres and landmarks without the fear of being harassed or caught up in violence.

"It is unacceptable that a small minority should believe they have the right to break the law, harass people, damage buildings and attack police officers. My message to those people planning on attending on Thursday night is if you want to take part in peaceful protest that is your right and we want to work with you. If you want to break the law then we will police you. Where offences are committed we will investigate them and make arrests."

A series of briefings have been delivered to local businesses in the Westminster area and those buildings that have been advertised as possible 'targets' for the Million Mask March.

A London wide policing operation will be in place, which is designed to prevent trouble from flaring, and facilitate anyone who wishes to take part in peaceful protest. Dedicated teams of highly flexible officers will be on standby at key locations in the Capital.

Details of the conditions applied under Section 14 of the Public Order Act, 1986, are as follows –

Any static assembly held can only take place at the following locations:

Trafalgar Square;
In the area in the centre of Parliament Square (known as Parliament Square Gardens); and
In the area within the barriers on the East Footway of Whitehall, opposite Downing Street (known as Richmond Terrace).

Details of the conditions applied under Section 12 of the Public Order Act, 1986, are as follows –

If a procession (march) takes place, it will be from Trafalgar Square and stay within the area bounded by:

Trafalgar Square;
Northumberland Avenue;
Victoria Embankment;
Bridge Street;
St Margaret Street;
Abingdon Street;
Millbank (up to junction with Great Peter Street);
Great Peter Street (up to junction with Great Smith Street);
Broad Sanctuary;
Parliament Square;
Parliament Street; and
Whitehall.

Other conditions under act are:

The march must not commence before 18:00hrs;
The march must not continue after 21:00hrs;
The participants must follow the directions of constable even if the route is varied; and
There will be no motor vehicles as part of the procession.

Additionally under Section 35 of the Anti-Social Behaviour, Crime and Police Act 2014 an area within Westminster has been dedicated a dispersal zone, from 17:00hrs on Thursday, 5 November until 02:00hrs on Friday, 6 November.

A section 60AA of the Criminal Justice and Public Order Act 1994, provides powers to require the removal of facial coverings where police anticipate there may be criminal offences, will also be in place within the same area for the same duration.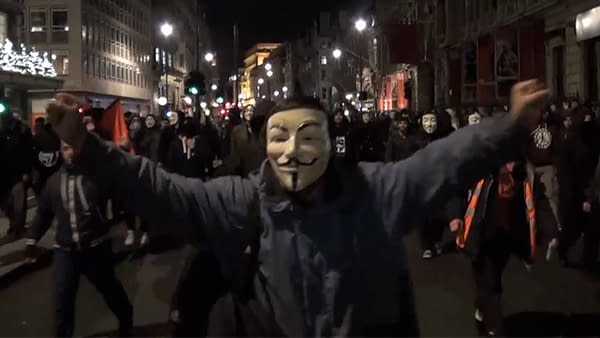 What fun… I'll be popping along as an observer… before going to the pub.
This is what the Guy Fawkes mask is now. Omnipresent, the features of a 17th century religious terrorist who conspired to blow up the heart of British democracy (such as it was) to replace it with a repressive monarchy. Turned into an effigy to be burnt every November 5th, but that began to fade away at the end of the twentieth century. Then made culturally famous in recent years by the movie based on the Alan Moore and David Lloyd comic book V For Vendetta. And adopted, via 4chan, by Anonymous and other protest groups as a faceless face. It really has been a curious journey to this place.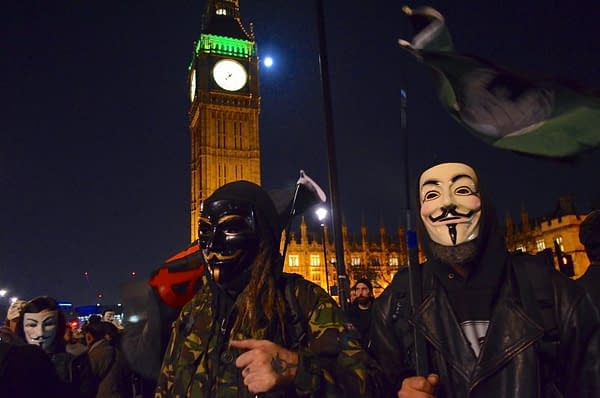 Moore told Goodreads recently,
For a number of years – and this has bearing upon a number of the questions that I've been asked, so perhaps best to mention it now – I have found it to be in my own emotional best interests to completely sever my association with all of those works which I do not own, and which thus I can only disown. The alternative is to remain simultaneously angry and depressed about these things, and I don't see how that would serve anybody's best interests. Therefore I don't keep any of those books around; don't wish to read, see, or sign them ever again; and although at the time they were heartfelt pieces of work that I was very proud of, all that they genuinely represent to me now is a lot of unpleasant memories and broken friendships. I know that for a lot of people, these works may be their very favourite pieces and may personally mean a lot to them, and I certainly appreciate that affection and apologise if my position is dispiriting. The readers have every right to enjoy these books, but I would just ask everyone to understand why I personally cannot enjoy them anymore. So, on the subject of V for Vendetta I have few thoughts at all, whereas I retain a great deal of admiration for much of the work done by Occupy and Anonymous. From my position, if I have had one of my ideas stolen from me and turned into yet another cash-generator for some abhuman corporation, then if it has at least escaped into the wild sufficiently to be of some symbolic use to today's protest movements, that makes me feel a lot better about having written it in the first place. It makes me feel that the work may have had some use beyond its purely commercial agendas, a use more in keeping with my intentions back in 1981 when I was first putting the ideas for that work together.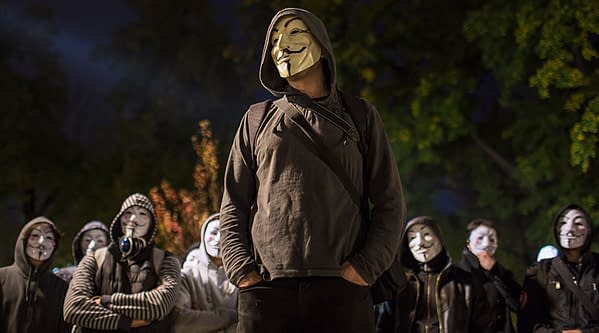 David Lloyd told Quietus a few years ago that he is,
Happy that a symbol of resistance to tyranny in fiction is being used as a symbol of resistance to any perceived tyranny in real life. The image of Che Guevara – another bearded guerrilla fighter, though in reality – has been used similarly as a badge of resistance to perceived injustices, and V's just joined the club. Badges and symbols are useful as instant communication devices, though in the case of V, it seems to me that the communication isn't quite as instant as with figures such as Che because, despite the movie, V For Vendetta, and its trappings, is not well-known to the general public. But then, any puzzlement shown by anyone in ignorance can always be allayed by their investigations of the source of the images – and then, who knows, they might become beneficially educated by the experience!
And on the use by Anonymous,
Well, I don't know enough about them, but I guess they're forming a union and wanting a unifying image, which in one sense is against the true concept of V from the book, where he stands for individualism. But the image in the movie of the mass protest of 'Vs' was one of a unified front of resistance against tyranny, so I can understand how that could promote the concept of one group with one collective face. And, of course, the more stylish an image is the more attractive and impressive it is for anyone wanting a brand.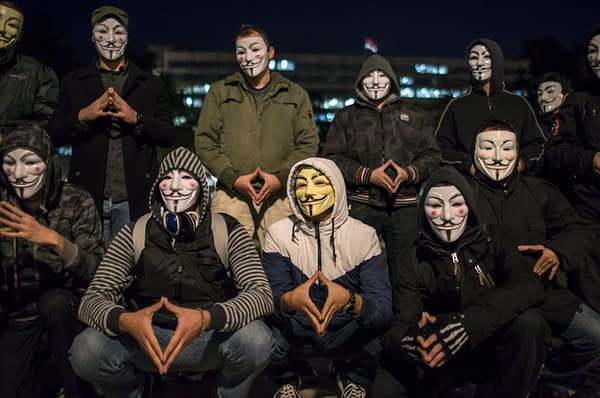 And today, on the fifth of November, the spirit of Guy Fawkes is everywhere.
An Anonymous group is planning to release new details of membership information of the KKK.
In Lewes, they are choosing to burn something other than a Guy Fawkes effigy…
And the appropriately named Guido Fawkes blog reports,
Someone at the Cabinet Office has a sense of humour. Which day did they choose to conduct a major security assessment of their department's firewalls, making sure no subversive plotters had slipped beneath the guards undetected?