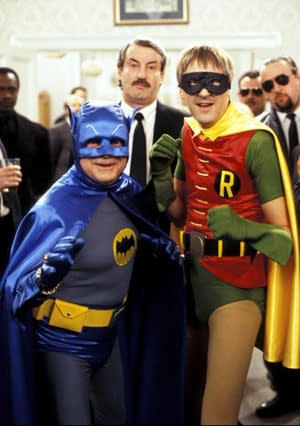 I don't know if The Sun is still the UK's best selling newspaper or even just the best selling tabloid, and I don't know if they've gotten any better at getting their facts right in the last few years but I do know that tomorrow's issue, which is starting to appear in some parts of London, runs with an exclusive claim that Only Fools and Horses is coming back to the BBC.
The super-hit sitcom, the final final episode of which was screened in 2003, was created and written by John Sullivan. He passed away in 2011. I find it hard to imagine the show having the same character without him.
There was an interview with David Jason in The Times a couple of weeks back in which he said, quite openly, that John Sullivan's sons had written a treatment for some more episodes of Only Fools. Now, according to The Sun, the BBC have decided to go ahead with the project.
What I don't know, yet, is who will be actually scripting the episodes. If the BBC are looking for more of that Del-Boy-Falling-Through-The-Bar magic, they might want to go back to the source…
UPDATE: The BBC have announced that Del Boy and Rodney will appear in a new sketch filmed for Sport Relief. Apparently:
Further details will be announced in the build up to the appeal night on March 21.
I dare say this will yield to more material if it's well received.
Enjoyed this article? Share it!