Sammie Reads: Teen Dog #3, Copperhead #3 And Alex + Ada #10
By Sammie Rice
Greetings, readers!
I hope you have found ALL the comic goodness this week because, OH BOY, was there a lot of fantastic titles that came out! But there are three books I really want to discuss with you.
First up we have Teen Dog #3 published by Boom!Box and created by the incredibly talented Jake Lawrence. Who is Teen Dog, you might ask?
Teen Dog is a ridiculously rad pooch with super great pals. Each issue has several mini-adventures where Teen Dog and his friends have a blast doing different high school activities like skateboarding or hanging out in the cafeteria. Oh, and he loves food. Like, he REALLY loves food. (He IS a growing pup, after all)
In issue number 3, Teen Dog and the gang "tackle" all sorts of sports like football, basketball, roller derby and even chess! Once again, Lawrence delivers a much needed all-ages comic book that has some laughs, some cute art and a few valuable lessons thrown in too. But don't make the mistake that this book is just for children. When you flip to the last page of this issue, be prepared for some surprisingly deep insight into how you choose to live your life. You can either be like Thug Pug and suck all the joy out of the room by being a downer, or you can live like Teen Dog and learn to appreciate the small moments because sometimes, those are the most precious. Here is a snippet but make sure to read the whole page!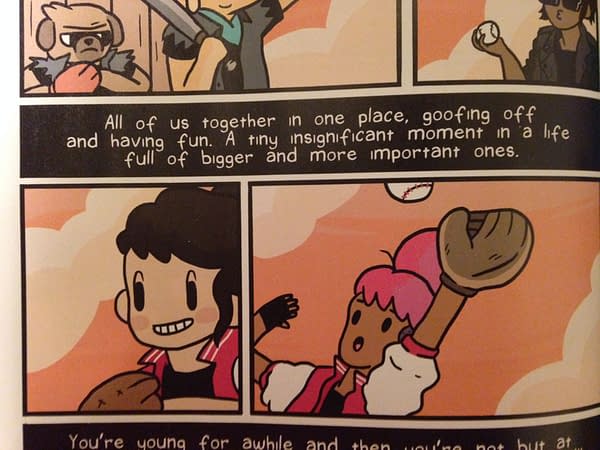 Can we talk about Copperhead #3? Yes, let's talk about Copperhead #3.
As we start to get into the heart of the story, we delve into the world that Jay Faerber & Scott Godlewski have created for us. It is mysterious, dangerous and intriguing. We have seen humans, aliens, spaceships, artificial intelligence and we probably haven't even scraped the surface of everything in this universe.
The western-style space theme is definitely something that's holding my attention. After a certain show got cancelled from a certain network I have needed something like this back in my life!
Issue number three has Clara and Boo still trying to figure out the mystery of who slaughtered an entire family of hot-tempered, green, slimy aliens. The plot thickens as we learn about a sacred jewel called a "swavash" and how it could possibly have dangerous repercussions.
This issue seemed like it had less pages to me because I finished it super fast. Maybe it had something to do with the copious amount of panels that lacked actual dialogue. Instead of word balloons, readers figure out what's going on through facial expressions and body language. Doing this also gives Godlewski a chance to showcase his talents.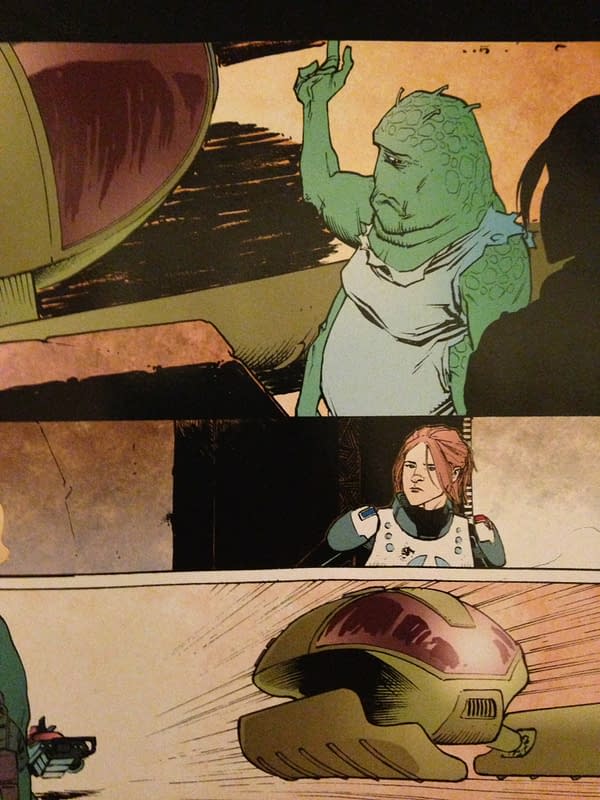 Even though this approach can sometimes be catastrophic (if the art isn't very good the readers can have a hard time telling what's going on) I think Faerber and Godlewski have done this with great success in the past and I really hope they continue this trend.
Alex + Ada has hit double digits this week with issue number 10!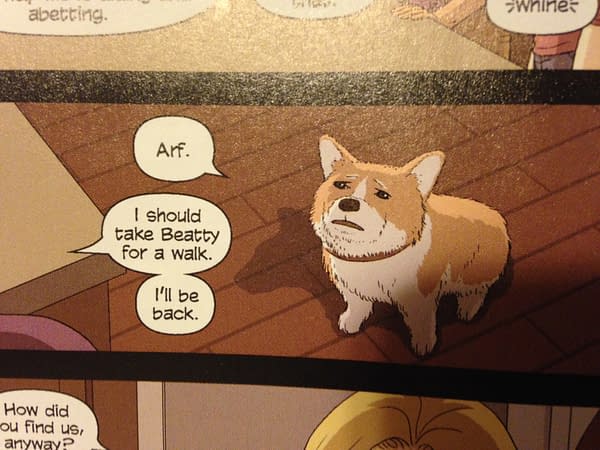 Don't worry, Beatty. You'll get your walk. And a ridiculously satisfying issue as well.
If you are anything like me, waiting for this month's issue has been borderline torture. The worst part is, I know that the creative team of Jonathan Luna and Sarah Vaughn are intentionally pulling on my heart strings because they KNOW I just simply can't put this book down. The last couple of issues have left me in a state of downright depression worrying over Ada and Alex not being together. Ada was last seen wandering the streets of Washington, D.C. with a few of her sentient robot pals when they were suddenly ambushed by some android-hating FBI agents. Ada, still angry at Alex, flees to Emily and Teji's home about to be completely drained of energy. Meanwhile, Alex opens his front door to find his ex-girlfriend, Claire, wanting to talk to him.
As soon as this book was in my hands, I hesitantly started reading. But with every page, a little something got a little better. Emily and Teji were accepting of Ada being sentient. Alex dissed Claire and basically closed the door on that relationship. Alex finally finds Ada.
And this finally happened.
The best panel from this series so far. It perfectly encapsulates their relationship. Do you see how happy Alex looks? *Sigh* My heart is so very full.
Even though this issue ends with a cliffhanger (like always) I'm fairly confident that Luna and Vaughn are going to keep our beloved couple together until the end of the series. Fingers crossed!
Remember to pick up these issues at your friendly, neighborhood comic book store!
Thanks for reading! Until next time, readers…
Sammie Rice is a Florida comic book store employee and proud Valkyrie. She enjoys long strolls through the park in Pterodactyl-free zones. Find me on Twitter and Instagram: @SammieReads.