San Diegio Dreaming: Warner Bros Announce Schedule For 2009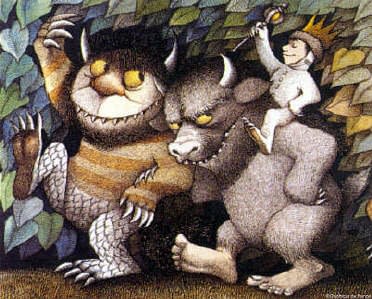 So what are Warner Bros doing for San Diego Comic Con? Let's find out!
Thursday July 23rd 3.30pm – 4.30pm: The Final Destination 3D Showcase Presentation. Producer Craig Perry and cast members. Hall H, converted for 3D presentations for all studios.
Friday July 24th 10.15am – 12.30pm: Warners Brothers Presentation – Where The Wild Things Are, The Book Of Eli, Nightmare On Elm Street, The Box, Jonah Hex and Sherlock Holmes. Trailers, previews, panel discussion with directors, actors, writers and producers, Hall H.
Friday July 24th 1.45pm – 2.45pm: Q&A with Robert Rodriguez on Shorts with cast members, Room 6DE.
Warner Bros Television will have eleven TV series events at the show with panels for Fringe, The Big Bang Theory, Chuck, Smallville, Supernatural, Eastwick, Human Target, Past Life, V and The Vampire Diaries.
Image copyright Maurice Sendak.