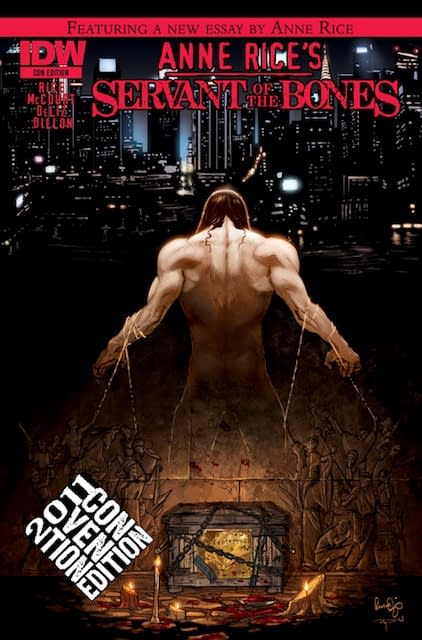 Debuting at San Diego Comic Con…
Title: Anne Rice's Servant of the Bones #1
Creators: Anne Rice & Mariah Huehner, Renae DeLiz & Ray Dillon
Publisher: IDW
Available: Booth #2643
High concept: An adaptation of Anne Rice's novel that takes us back to the time of ancient Babylon with this six-part tale of murder, demonic revenge, and the redemptive power of faith. The demon Azriel sets out to find the murderer of a beautiful young woman in the streets of New York City, only to discover a far more sinister plot that could end the world. Once a human in ancient Babylon, Azriel is a spirit of rage and terror that gradually rediscovers his humanity through holy vengeance and spiritual love.
Format: Comic, 22 pages
Print run: 400
Price: $5.99 (San Diego advance exclusive) – Anne Rice will be signing
What's the website: www.idwpublishing.com

Enjoyed this article? Share it!