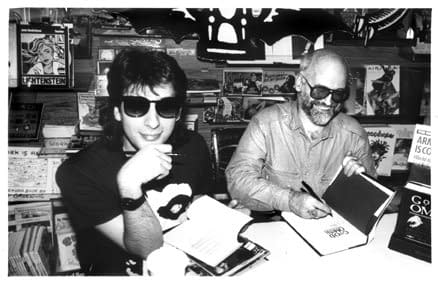 Last September, word got out about a proposed Sandman series from Warner Bros. TV:
Rights have yet to be agreed and, uniquely, Neil Gaiman negotiated himself a creator-participant deal on what was originally a DC owned trademark and comic book. Supernatural's Eric Kripke… is favoured showrunner. As of yet, Neil Gaiman is not involved.
But as of now? Well, Kripke tells The Hollywood Reporter that he's spoken with Gaiman, and development was underway, but the show now appears to have stopped in its tracks:
Unfortunately, for a lot of varying reasons, Sandman is not in the works, at least for this season. [It] just didn't quite happen this season through nobody's fault, and hopefully we can do it again in the future.
It's obvious that the THR journalist hasn't read Sandman because their story, at time of writing, says the following:

So, Emily Rome, writer for The Hollywood Reporter, tell us where to send you a sample issue and we will.
Meanwhile, on this side of the Atlantic, progress is being made on another Gaiman-to-TV production, the adaptation of his novel Good Omens, written with Terry Pratchett.
Here's Pratchett, as per Discworld News:
There has been one hell of a lot of rumours regarding a Good Omens adaptation over the past few weeks, mostly started by me at the SFX Weekender. So, ladies and gentleman, I can hereby exclusively reveal that – YES – Neil and myself have shaken hands and received groats from Rod Brown sealing a TV deal. An official announcement from Prime Focus will follow in a couple of weeks time. However, I can reveal right now that Terry Jones (yes, the Python) and Gavin Scott (not a Python, but he gets it) are already on the job. It's been a long time coming, but it's looking good.
Note the mention of Rod Brown, the man from Prime Focus Productions. They're the folk behind the previous Discworld miniseries, and while it's not really a surprise to see they're behind Good Omens, I don't think anybody really knew until now.
I'm still mourning the Terry Gilliam-directed big screen version that never was. Sorry to so blatantly play favourites with Pythons called Terry, but there you go. I've not told you anything you didn't already know.
Right. Now for something a bit odd… a second news story featuring many of the people mentioned in this one, coming right up.
Enjoyed this article? Share it!