Saturday Runaround – "I'm Living Out All YOUR Fantasies"
GranitoWatch: On the Rob Granito Is A Fraud site.
Jim Felker: and people thought I was bad for writing Steampunk Palin…
GranitoWatch2: Buy your legit-o-mite T-shirts from Jay Diddilo here.
DoctorWatch: The BBC shows they don't know how reflections work, in this promo image.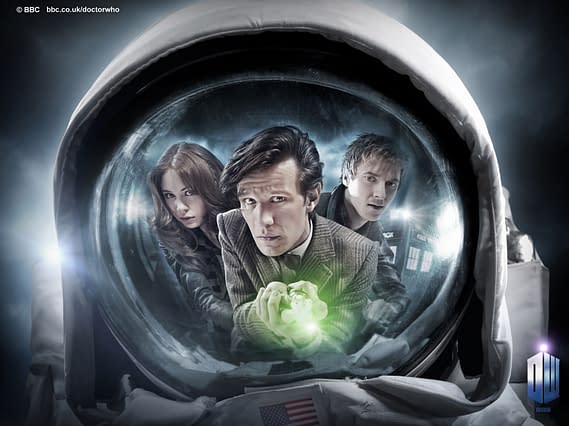 MangaWatch: Al Davison to run a manga workshop at a manga day in Scunthorpe on April the 17th.
LocalWatch: The Godzilla variant covers start to get local news coverage… starting with Curious Comics in Australia.
DigiWatch: Kotaku teaches you how to take your comics reading habit digital.
PaulWatch: Ryan Ottley reports from on the set of Paul with Cory Walker and Robert Kirkman.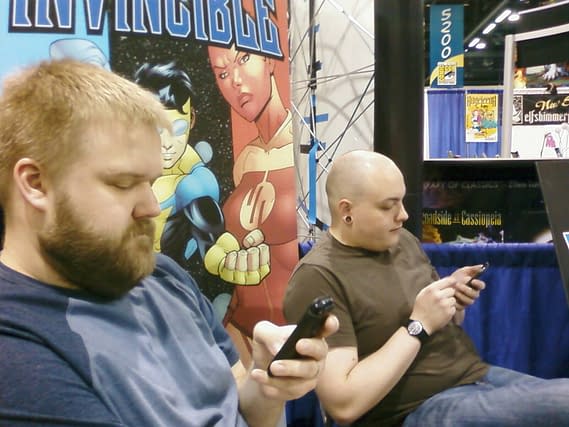 "Simon Pegg came over and talked with us for a bit, chatting to Robert about the Walking Dead. Simon then said "Well I better run, I need to do a Kissing scene with Atom Eve!" He then pointed at Robert, Cory, and I, and said "I'm living out all of YOUR fantasies."" This is The Bleeding Cool ComicChron Robot speaking. I come for your women. But for now I merely collate comic-related bits and pieces online. One day I will rule. Until that day, read on.
They say I am a work in progress. The fools.
Jim Shooter: The Impending Death of the Comics Industry
Most frightening was the great and growing hostility the creative people felt toward the companies. Many had entered the business as starry-eyed fans. First they were stunned by the rotten conditions. Then their disappointment turned to anger.
Artist Mike Kelley created a series of art pieces based on the bottle city of Kandor. Yes, the Kryptonian city miniaturized by Braniac and kept in a bottle by Superman. The exhibition was originally shown at the Jablonka Galerie in Berlin in 2007:

Warren Beatty Wins Dick Tracy Lawsuit – Deadline.com

Warren Beatty just received an early birthday gift. (He turns 74 next week.) A federal judge in Los Angeles has stopped Tribune Co from reclaiming the television and movie rights to comic-strip detective Dick Tracy from Warren Beatty.
yfrog Photo : Shared by Tom Brevoort
A little piece of history:Joe Jusko's cover to the aborted adaptation of Japanese Spider-Man circa 1979!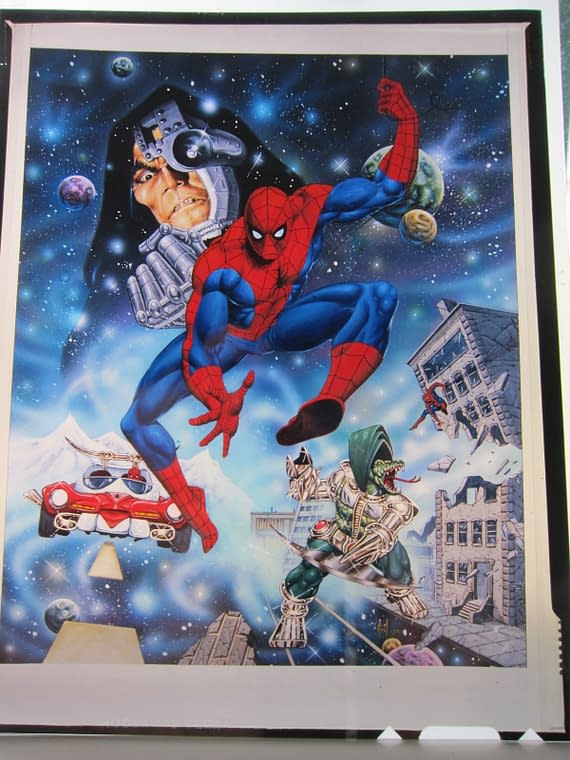 New Thor Character Posters | Thor | Movie & TV News | News | Marvel.com
Get ready for some up close and personal looks at the heroes and villains from "Thor" with these new character one-sheets!
DC Universe: The Source » Blog Archive » Flashpoint Friday: Who is Blackout?
This morning you saw Jim Lee's character design for Element Woman. This afternoon, THE SOURCE will be revealing designs for two new characters from the pencils of Andy Kubert. Up first, check out Blackout: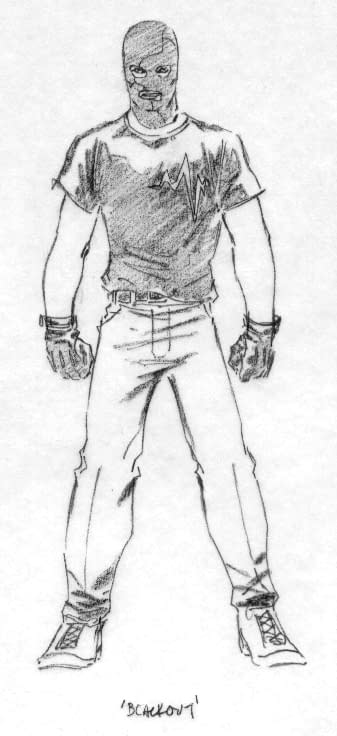 DC Universe: The Source » Blog Archive » Flashpoint Friday: Character Designs
First up, who is Element Woman?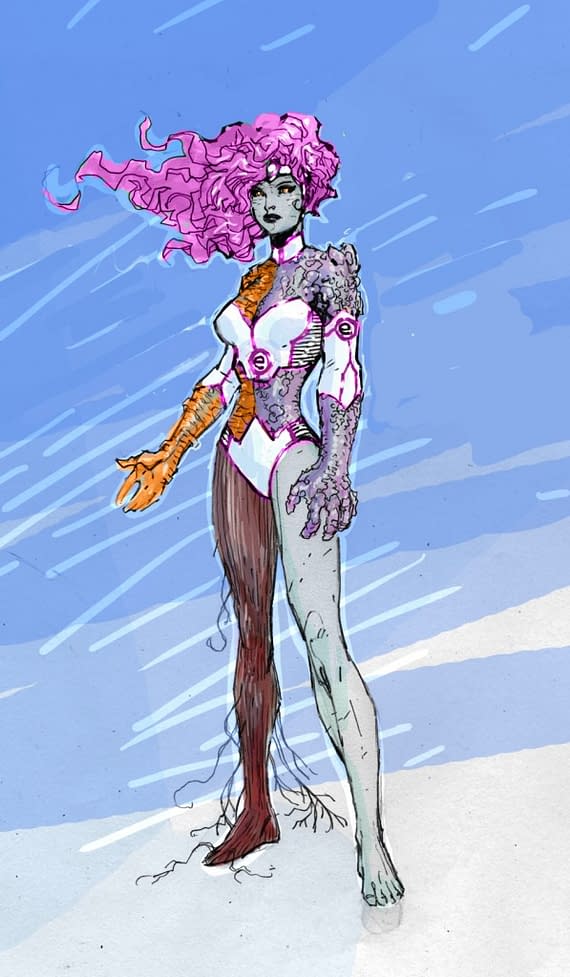 Story Tattooed Across 2,095 People | Geekosystem
Writer Shelley Jackson is publishing a 2,095 word story, which wouldn't be all that amazing, except it is tattooed across people, one word per person. The appropriately-titled "Skin" inks the tattoos on volunteers who must accept the word they are given, which can only be in black ink and in classic book font.
Wowio Acquires, Relaunches Spacedog Digital Comics Imprint
Continuing to revamp and reposition its strategic business model, Wowio.com, an online hub for the aggregation, creation and distribution of digital content, is launching the newly acquired Spacedog Entertainment, a digital comics imprint with a library of original comics properties that include previously released print works as well as comics properties that have been adapted into feature films. Wowio plans updated versions of many Spacedog properties that will be serialized digitally through the Wowio/Spacedog website.
Bryan Singer Says He Made 'Superman Returns' for 'Devil Wears Prada' Audience – The Moviefone Blog
The most interesting element of the entire chat is Singer's discussion about how he was attempting to lure women into seeing a comic book movie. "What I had noticed is that there weren't a lot of women lining up to see a comic book movie, but they were going to line up to see 'The Devil Wears Prada,' which may have been something I wanted to address." It seems odd to think of a superhero movie aping something like 'The Devil Wears Prada,' but in retrospect, 'Superman Returns' does have a very female-friendly vibe and this explains why romance plays such a big part in what many expected to be a full-on action flick.
Scott Adams (Dilbert), deleted post • tinysprout
The topic my readers most want me to address is something called men's rights. (See previous post.) This is a surprisingly good topic. It's dangerous. It's relevant. It isn't overdone. And apparently you care.
A Moment Of Moore – 'Neil Gaiman Is Just Alan Moore For…
'Neil Gaiman Is Just Alan Moore For Pussies.'
YouTube – Captain America FUCK YEAH Trailer #2 PARODY
Well guys, it's been a fun ride, I enjoyed it. I will probably let you down because the original video was just a perfect mix. I decided not to do the obvious, and take another route. Hopefully, you'll enjoy it all the same. Probably wont be as big as the other was…but most sequels arent haha.

[youtube]http://www.youtube.com/watch?v=vq8OoPdiiVc[/youtube]