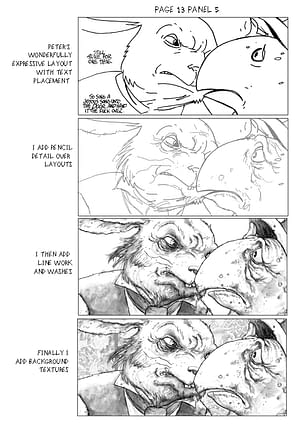 TokyoWatch: Heidi gathers Tokyopop obituaries and analyses… and finds a heady mix of pride at roads taken and regret at those not, as Stuart Levy heads to Japan to make a documentary for a year.

ArtWatch: The wonderful Al Davison on working on finishes for The Unwritten. See a rather excellent example to the right.
BookWatch: Peter Kennard's @Earth begins to go through the mighty task of attracting media attention. Which is admittedly a little easier when you have Banksy giving you cover quotes. Tate Gallery runs a video on a visit to his studio, and a big opening at Raven Row on May Day.
There may be riots.
CancerWatch: Comic/animation writer Jake Black (Teenage Mutant Ninja Turtles, Supergirl, Ben 1o, Generator Rex, Brave And Bold) is in remission from cancer treatment over two years. But has $25,000 of unpaid bills from treatment, and current medical needs. A fund has been set up here.
ShakespeareWatch: A new blog looks into designing characters for a Hamlet graphic novel.
This is Computo the Comic Link Conqueror speaking. I come for your women. But for now I merely collate comic-related bits and pieces online. One day I will rule. Until that day, read on.
Dilbert Creator Pretends to Be His Own Biggest Fan on Message Boards
"As far as Adams' ego goes, maybe you don't understand what a writer does for a living. No one writes unless he believes that what he writes will be interesting to someone. Everyone on this page is talking about him, researching him, and obsessing about him. His job is to be interesting, not loved. As someone mentioned, he has a certified genius I.Q., and that's hard to hide."
Logan's Angels of Fury by Phil Noto | Project : Rooftop
Note: Wolverine & Jubilee artist Phil Noto has taken Logan and his favorite female sidekicks into a new aesthetic realm. Who else would love to see the story behind this?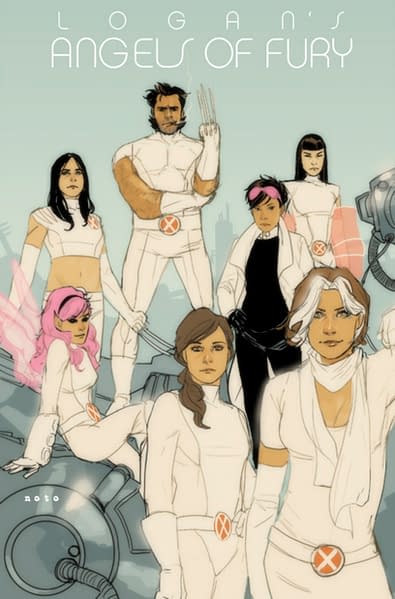 YouTube – Smallville Booster Gold Commercial
Booster begins his campaign to take the Blur's place as the "World's Greatest Superhero" and tries to charm Lois into writing a story about him, but she's not having his antics and begins her own campaign for the Blur. During one of Booster's saves, an alien weapon in the form of a scarab falls from a truck and fuses itself to a boy named Jaime Reyes, turning him into the Blue Beetle. Unfortunately, Jaime is unable to control the suit and Blue Beetle starts attacking Metropolis.
[youtube]http://www.youtube.com/watch?v=RKp2vfD9FG8[/youtube]
Can't find a job? Workforce Central Florida wants to give you a cape – OrlandoSentinel.com
The region's federally funded jobs agency is spending more than $73,000 on a media campaign to raise awareness of its services.
Dark Horse would have published TMNT
i almost got to draw an issue of Turtles for Mirage before Tales of the TMNT stopped being published at #70 (i did get to do a few covers though), so the Dark Horse thing was my even better second chance, and would've been the best shot in the arm my career could've gotten, not to mention something i'd wanted to do all my life and be a part of something that heavily influenced me as both an artist and writer. but alas, Nickelodeon pulled out, and TMNT cruelly slipped through my fingers a second time! then recently it was announced IDW Publishing got the TMNT license, argh! maybe i can get in on that but even if i did it probably won't be as awesome as the Dark Horse series would've been.
Dutch Bros. gives away 50,000 comic books | kgw.com | News | Portland, Oregon
The comic, called "Dutch Bros. Freedom Fighters," will be available at all 159 locations while supplies last.
Avengers writer on new superhero TV series
"When you start to talk about, 'What's it like before the X-Men get on the plane? Do people have to go to the bathroom? How do they go to the bathroom in those costumes?,'" he said. "Those were questions that were not really up for discussion when you do an 'X-Men' movie or any of those movies. Believe it or not, that was very important to me going show."

"Alphas," which stars Oscar nominee David Strathairn, revolves around five ordinary people who become one extraordinary team with powers. The long-gestating procedural thriller begins production May 2.
First Look: X-Man By Jorge Molina | Movie & TV News | News | Marvel.com
NEW MUTANTS #25 variant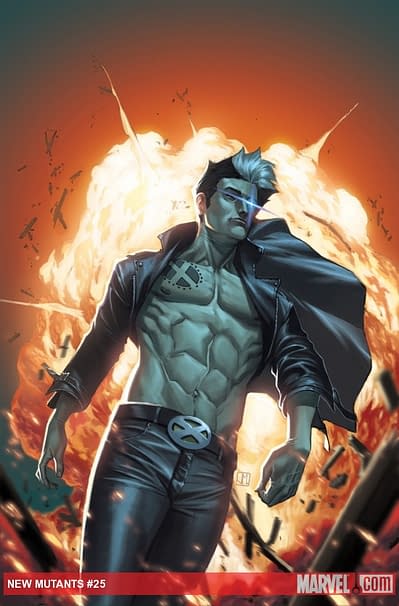 DC Women Kicking Ass – Are these the star spangled panties?
And look at the bottom of the outfit. The dark blue jeggings have gold stars not white. And that's not shiny enough for the first costume.
FLASHPOINT FRIDAY: "We can't talk about that yet. But oh my god."— Dan Abnett
Peter Milligan: I was involved the the Global Financial Meltdown that led to the demise of Lehman Brothers and the ruination of countless economies…but that wasn't quite as complex or far-reaching as FLASHPOINT.
Enjoyed this article? Share it!