BookWatch: Steve Niles and Jeffrey Combs are collaborating on a comic version of Comb's one man Edgar Allan Poe styled play, Nevermore comic book, to be published by IDW.
AquaWatch: Gutters gives a very Monty Python alternative end to Aquawar.
SlapWatch: Sixteen-year-old critic Emily Nichol tells Keith Knight that politics and comics should not mix.
"I do not intend to suggest restrictions on the freedom of speech or the expression of personal political views. I do however, harshly criticize any cartoonist who takes advantage of his work to express his personal perception of any political party."
We look forward to her googling her own name in five years and being rather embarrassed…
IndiaWatch: Indian comic book The Sixth: Legend of Karna about a successful businessman forced to go to India which find him taken by by the events of the Mahabharata is to be turned into a new movie, directed by Chetan Desai
MarvelWatch: Nick Spencer talks about his plans for Secret Avengers, clearly trying to rally people to vote for him in the Bleeding Cool Fan Awards.
I know what the [Fear Itself] story is at this point, and have gotten to read some of Matt [Fraction]'s scripts on it. It is a huge, huge story that impacts basically all corners of the Marvel Universe. Basically, anything and everything everyone was fighting for before, they've had to drop what they're doing and move on to this. That's a big part of what I'm going to be reflecting in these stories. This is The Bleeding Cool ComicChron Robot speaking. I come for your women. But for now I merely collate comic-related bits and pieces online. One day I will rule. Until that day, read on.
They say I am a work in progress. The fools.
Letters of Note: The Giant Zlig
Early-1976, aged 18 and still in high school, aspiring artist Tim Burton sent both a letter and copy of his illustrated children's book – The Giant Zlig – to Walt Disney Productions in the hope that they would publish it. Weeks later, he received a very polite rejection letter from an editor named T. Jeanette Kroger in which she outlined her impressions of his submitted work and offered predominantly positive feedback.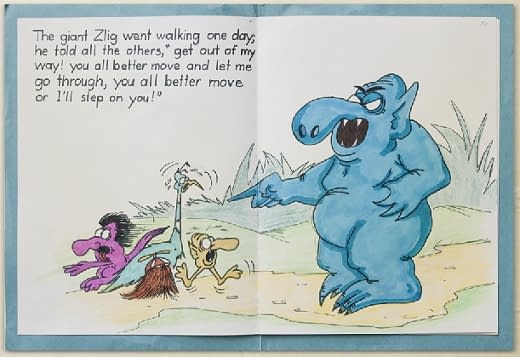 You don't start off an answer to a frequently asked question on your website by complaining about your customers.
Congrats on the pick up. Can't wait. Welcome to FX. @BRIANMBENDIS Powers pilot was just greenlit by FX! it's official!
Is a Wonder Woman Craze Coming? | The Stir
I wondered if other designers are anticipating a run by trendsetters on all things Wonder Woman in advance of the show. You won't believe the Wonder Woman-inspired designer accessories I found!
Kick-Ass creator Mark Millar unveils his ultraviolent Nemesis | Film | The Guardian
Gambling on making Kick-Ass for free as an indie movie (Vaughn took no salary for two years) and retaining the rights has made Millar spectacularly rich. It's also given him power, and the garrulous Scot laughs gleefully when throwing figures around for the budgets that he and Vaughn are now commanding.
Investors, not bosses: Ed Chavez on the Vertical deal | Robot 6 @ Comic Book Resources – Covering Comic Book News and Entertainment
Even with our growth, we weren't exactly financially stable. We have been around for a while and we haven't had too many quarters of sustainability. That's not going to change overnight, or even over half a year with good manga sales, but with this influx of money, we can pay our bills and not have to worry about that. We can go after titles we might have been a little reluctant to in the past.
Breaking Down | Cosplay | Episode 1/6 on Vimeo
To get to the core of the motivation behind these fantasy seekers Jordan will have to immerse himself into the community and find out for himself if it's all the rage or just glorified Halloween.
[vimeo]http://vimeo.com/19911412[/vimeo]
A Moment Of Moore – 'Here's The Marvelman Script…' (from Letters of…
A cover letter Alan Moore sent with the first Marvelman script to Dez Skinn in 1981.
Enjoyed this article? Share it!