SDCC '15: Heavy Metal Launches 'Crazy Violent, Neon Drenched' Interceptor – Talking With Donny Cates And Dylan Burnett
In the past couple of weeks, we've had lots of news surrounding Heavy Metal, including the biggest news recently that Grant Morrison will be acting as Editor-in-Chief to bring his aesthetic and sensibilities to bear. But one of the comics that will be launching in the newly minted iteration of Heavy Metal following the creator-owned line they've already established in Hoax Hunters, is Interceptor, written by Donny Cates and drawn by Dylan Burnett. It's a sci-fi series that I hear promises to be "campy" and outrageous in the vein of Kurt Russell films, but also preserve some of those elements of sci-fi tradition that keep us coming back for more.
Here, from San Diego Comic-Con, I bring you an interview with Cates and Burnett about this new comic. Hannah Means-Shannon: What was your first ever encounter with Heavy Metal and how do you think they've contributed to comics culture?
Donny Cates: When I was a kid, my parents had this babysitter that my brother and I would go and stay with on some weekends here and there, the woman whose house it was also had two boys who were both a few years older than my brother and me. That is the house that introduced me to the wonders of professional wrestling (Hitman Hart all the way) and by way of snooping, Heavy Metal. The older kid had a closet that was absolutely off limits, which of course meant I had to know what was in it. My brother and I snuck in there one day and rummaged around for some Playboys or something. What we found was way, way cooler. He had a ton (well, maybe like ten or so) of old 2000AD, and CONAN and WARRIOR and HEAVY METAL copies in a pile. My brother lost interest right then and there, but not me. To this day I have the same feeling when I hold a copy of Heavy Metal. This is somehow forbidden. This is a thing that should not be. This is dangerous.
I think with Grant [Morrison] in charge of the shape of things to come we can all expect things to get a little dangerous.
Dylan Burnett: As far as what they've contributed to comics culture? They've given us Jean Giraud and Frank Frazetta! Now that Grant Morrison is at the helm? 'Nuff said!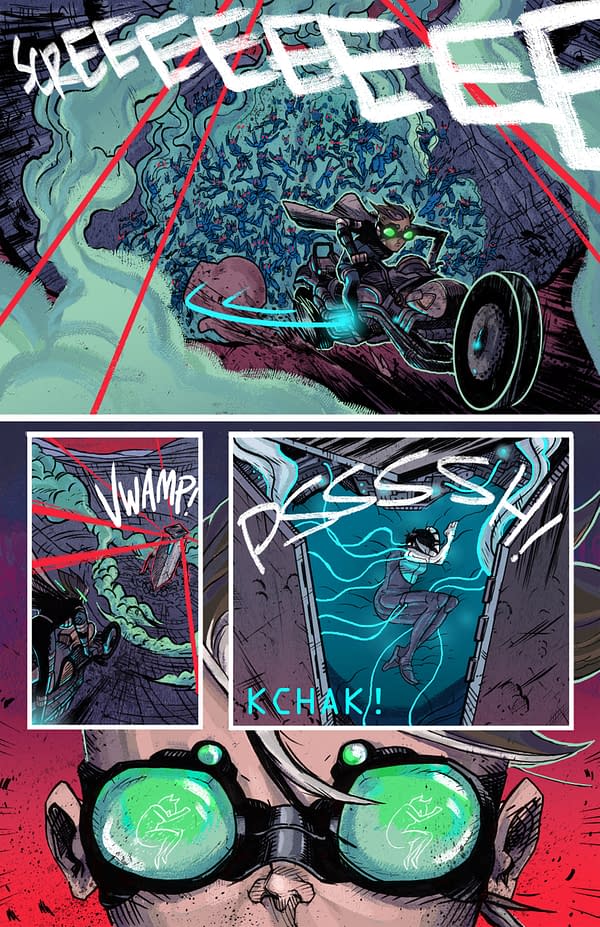 HMS: With the new creator-owned comics direction for Heavy Metal, this seems like a very interesting place for creators to get onboard right now. How did Interceptor land at HM and what are the benefits of this venue for you?

DC: Trust and freedom. I went to the HM panel in Emerald City a few months back on the advice of Jeremy Atkins, the former Dark Horse and now Heavy Metal marketing guru. He saw me on the floor and told me I should come, because they are about to announce something I would dig. So, I trust Jeremy so I went.
True story: As soon as Jeff Krelitz announced on the panel that they were only going to be charging creators one dollar to put out their book, I took my wallet out and walked up the aisle with a dollar in my hand. I placed it in front of Jeff on the panel and walked away. As far as first impressions go I think that one stuck out a bit for Jeff. I emailed him a month or so later with a pitch for Interceptor and he approved it within ten minutes. He basically said "I've read your work, this looks awesome, let's do it"
That was enough for me. Trust and freedom. I think that's how you get good art.
HMS: What's the origin and genesis of the idea behind the series for you, Donny and Dylan? What's at the heart of the story for you so far?
DC: I've wanted to do a book about Vampires my entire life. I LOVE vampires. Love em! But, yeah….what else is there really to be done with them that hasn't been done? I was talking about this with a friend of mine over dinner and he kind of challenged me to tackle it, to come up with something new. I forgot about it for a while and then one day I was going through an old notebook and there it was. Written in this old notebook was this: "After the bombs fall and the sky is blackened for centuries, that's when the Vampires come out. That's when they evolve."
I have no idea when I wrote that or why but it lit everything up in my head again. I started thinking about that world. What it would look like, how it would operate. Out of all of that, came Interceptor. My weird little sci-fi future space vampire story.
The heart of the story lives inside of a little rebel girl named Weep. It's her story. We see things through her eyes from the moment the Interceptor ship lands in her backyard to the moment the mech suit spools up another hurricane of white-hot ultraviolet death.
Oh yeah, did I mention there are mech suit fights against highly sophisticated high-tech Vampires in future jets? This book is a lot of fun.
DB: This book is dominated by these fantastic and totally rad women who are not to be messed with. That, along with motorcycles, vampires, mech suits and robot karate makes for an awesome comic book if you ask me!
HMS: Can you tell us a little bit about getting together as writer and artist, Donny and Dylan, on the series? What format for installments do you all deliver and what's the scope/plan for the distribution of the series?
DC: Dylan came to me through a great artist named Adam Gorham (check out his killer work on Ales Kot's Dead Drop!) Adam and I were actually planning on working together for a while and then Adam had to bounce out due to awesome things. In his email telling me all about the awesome things, he mentioned that his friend Dylan was a great artist and I should check him out. I did, and as soon as I saw his stuff I knew he was the guy for Interceptor. I basically sent him an email telling him (rambling about) the whole thing and he was into it. We have a very similar sense of humor and aesthetic. Sometimes you just know.
DB: If I could thank anyone for the amazing opportunities that I've had over the past few months, it'd be Adam Gorham. He put me in touch with Donny, Donny pitched me Interceptor and I loved the idea. Now Donny and I are playing in this crazy violent, neon-drenched world that is Interceptor and I couldn't be more excited!
DC: RIGHT NOW, Interceptor is a five issue mini, (followed by a collection of all five shortly thereafter) but Dylan and I both want to play in this world for a long, long time. So pretty pretty please with sugar on top go order!!
HMS: Where can folks find out more about Interceptor and your other projects at San Diego Comic Con?
DC: Follow me on twitter! @Doncates
DB: You can find me on http://dylanburnett.blogspot.com/ and on twitter at @dylrburnett