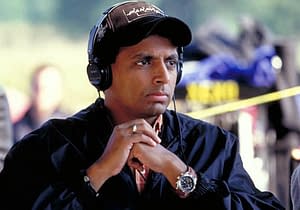 It's a first: M. Night Shyamalan is to direct a movie from a screenplay he didn't write himself. I'm a little surprised, maybe even disappointed. I've got a lot of love for his scripts for The Sixth Sense, Unbreakable, Signs and The Village and it's only really his Last Airbender screenplay that has me gotten me scratching my head.
The script in question this time around has been written by Gary Whitta, previously responsible for The Book of Eli, and Ted Naifeh's collaborator on Death Jr. comics. It's being called One Thousand AE – and my best guess would be that AE stands for After Earth. It's that kind of sci-fi.
According to Heat Vision, the project is set up at Will Smith's production company, Overbrook. The not-too surprising twist there is that the film has been developed as a Jaden Smith vehicle. There's an adult male lead too, but apparently Will Smith himself won't be taking it – something tells me Bruce Willis will at least get sent a copy of the script.
The saddest element of Heat Vision's report is the news that Shyamalan's spec script, to which he had managed to attach Willis, Bradley Cooper and Gwyneth Paltrow earlier in the year, couldn't find a buyer at all. Now, no matter how you slice this – either the script was really bad or the studios were just resisting Shyamalan – I think the story is a really sad one.
Enjoyed this article? Share it!