Masters Of The Universe, Denzel As The Equalizer And More From Shauna Cross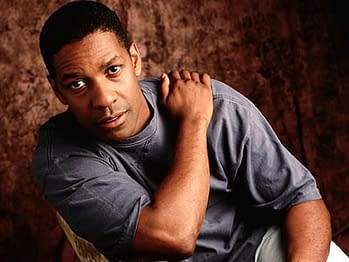 Sony Pictures Entertainment and Escape Artists, whose previous collaborations include Seven Pounds and The Pursuit of Happyness, have announced in a press release that they plan to continue their partnership with a range of upcoming film projects. Amazingly, none of them are heart-string tugging Will Smith vehicles.
At the same time, Escape Artists are announcing projects they're working on at other studios. Way to break Sony's heart, you harlots.
First up is How To Disappear Completely, adapted by Ed Solomon based in the Swedish film Vitus. His screenplay is on the 2011 Black List. Incidentally, it's not related to the Doug Richmond book or the play that followed it.
Also in the press release is the news that SPE and Escape Artists are planning:
A feature film adaptation of the hit 1980s television series The Equalizer, to be written by Richard Wenk. The project is being developed with Denzel Washington "in mind" to star
One wonders if Sony Pictures Entertainment have actually told Denzel Washington that they have him in mind for the role, or whether in fact he is sitting at a computer somewhere right now reading this and thinking, "What the fudge?"
Sorry to break it to you this way, Denzel. Loved you in The Bone Collector.
Also, Escape Artists are going ahead with Masters of the Universe, based on the line of Mattel toys which in turn were based in a series of minicomics, and have already inspired an animated TV series about He-Man, another animated TV series about She-Ra, many more comic series, another animated TV series, a godawful film and (you guessed it) another animated TV series.
I'm looking forward to this most of all, since any series that features a unicorn that can fart rainbows and a scene where He-Man straps himself into his favourite pink waistcoat, grabs hold of a man who walks around with a heart emblazoned on the chest and shares a horse with him* is a series that needs a big budget adaptation.
If they cast Mark Wahlberg in the lead role I swear to buy up every seat in the cinema in order to ensure that no one disturbs my enjoyment of the film.
Hare are some more projects on the same roster. A lot to look forward to.
– Sex Tape, with Nicholas Stoller attached to direct and Jason Segel attached to star

– I Want to _ Your Sister, a comedy written by Melissa Stack, set up at Paramount Pictures.

– Rumspringa, a comedy written by Whip It's Shauna Cross set up at Fox 2000.

– Gospel for Teens, based on a 60 Minutes segment that will be produced with Chris Meledrandi and Illumination Entertainment at Universal.
* I'm not making this stuff up, look: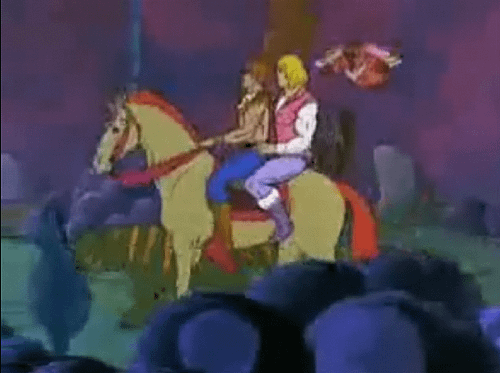 Brendon's note: I sort of messed about with this post a bit. If there's a line you don't like, it was probably mine.