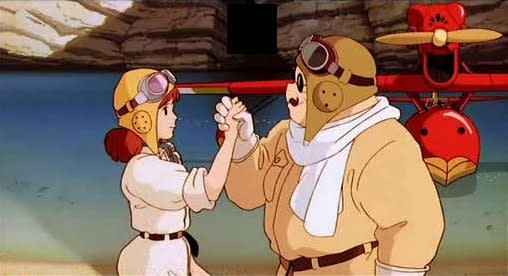 Upping the ante somewhat from his recurring talk of retirement, Hayao Miyazaki is now pitching the dissolution of Studio Ghibli. He told Cut Magazine:
Suzuki-san is making a dissolution program for Ghibli. No joke, we talked about it the other day. For example, Ghibli should be able to continue with about five staff members as a copyright management company even if we smash the studio. So, Ghibli can say 'We stop film production. Goodbye'. I do not have to be there.
Wow. On the other hand, they might not do this at all. Apparently the exit plan is in place should their latest film, Arietty the Borrower, turn out to be a box office bomb. Surely there's no need to take it so hard, guys? Can't you bounce back from one wobbly performance?
On the other hand, if Arietty is a success, there's an entirely different plan. Miyazaki wants to make a sequel to his wonderful fighter pilot pig picture, Porco Rosso:
So I want to escape to Porco Rosso: The Last Sortie. I have all its materials. It should be interesting. It is set for Spanish Civil War.
To get there, however, Miyazaki says Ghibli need to make successes of their next two films. There's not much info on either available, other than Miyazaki has written the proposals for both and will script them, and that the first of them will once again have a girl as its protagonist, and reading between the lines, it seems that the second will too.
Thanks to Nausicaa Net for the link and translations.
Enjoyed this article? Share it!