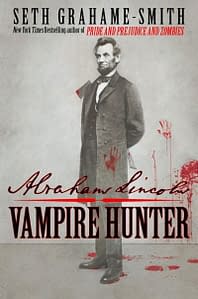 Director Timur Bekmambetov and above-the-title producer Tim Burton are planning a big-screen, 3D adaptation of Seth Grahame-Smith's novel Abraham Lincoln: Vampire Hunter. Until this weekend, it hadn't been set up with a studio, but now Fox have won the deal. But how did they do it?
Here's the set-up. Bekmambetov, Burton, co-producer Jim Lemley and a pair of William Morris agents were personally visiting studio execs and giving their pitch. Universal, Paramount, Summit and Fox were all very keen, but Fox got the edge with a little bit of razzmatazz. According to Deadline:
They were met with a huge banner at the gate. It had the title treatment of the script and was emblazoned, "Tim Burton and Timur Bekmambetov present Abraham Lincoln: Vampire Hunter". At their parking spot were signs saying "Parking For Vampire Hunters Only: park at your own risk," and so forth. There were bloody footprints lining the walkway and stairs leading from their cars to the meeting in Building 88 with images from the book and lines from the script. As if that were not enough, there also were bloody axes strewn about, and a bugle player in a Confederate uniform playing Taps as the filmmakers walked to the meeting.
I can see how that might impress… but surely the actual deal being offered was the best one? This can't have come down to a little bit of camp and some flattering effort, can it? We may never know.
The film is likely to start rolling in the spring.
Enjoyed this article? Share it!