Sunday Runaround – Captain America Hits The Pavement
MillarWatch: Ahead of BBC2 Scotland's upcoming look at the Scottish comics resurgence, Mark Millar gives Scottish nwwspaper, the Daily Record several quotes which people will no doubt have an issue with. But this description on selling Supercrooks as a film and getting a director…
"I announced this at a convention two or three months ago. Universal Pictures had someone in the audience, heard it, phoned my agent while I was there and did the deal.

"By pure chance, I was in the bar that night with a pal, director Nacho Vigalondo, and he was saying, 'I heard you sold this thing to Universal this afternoon without pitching it.'

"He's an awardwinning Spanish director, he's been nominated for an Oscar, and I said, 'Do you want to do it?' He said yes, he phoned his agent and we did the deal on that. It was absolutely mental."
…does seemingly contradict his actual announcement of Supercrooks at Ka-Pow that he had a Spanish director already attached. I know, I was there. Still, what's that line about printing the legend?
SickWatch: Comic-book charity Medikidz, that provides explanatory and encouraging comic books for sick children is expanding with a new US office after distributing their millionth comic.
The company, which saw revenues double last year, publishes comics that explain medical ailments, procedures and medicines. It should soon cover 300 different conditions and the firm will target Africa with titles on HIV, malaria and TB.
PavementWatch: Ithaca gets a little patriotic colour on the pavements.
Artists used their skills, passion and vision to decorate the pavement on Water and North Main streets Saturday in the fourth annual Elmira Street Painting Festival.

Some artists made original paintings; others tried to reproduce famous images or characters.

"I'm a lifelong comic fan," said Matt Straub, 29, of Painted Post, an art teacher at Ernie Davis Middle School, as he worked on an image of Captain America running in front of the words "freedom fighter" in red and blue block lettering.
NewsWatch: The Observers covers the new French graphic novel Tastes Like Chlorine, a love story set in the public swimming pool.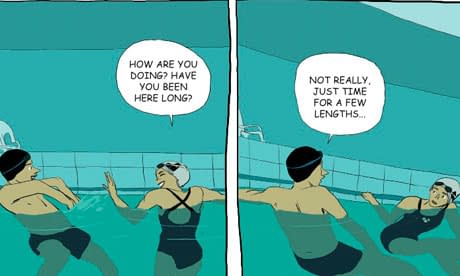 NotReallyWatch:
Major announcement from the

Star-Telegram

: In honor of the Dallas Cowboys' new marketing agreement with Marvel Comics, we will be adding bubbles reading "ZAP!," "BOOM!" and "POW!" to photos of Cowboys players making tackles.
This is Computo the Comic Link Conqueror speaking. I come for your women. But for now I merely collate comic-related bits and pieces online. One day I will rule. Until that day, read on.
They say I am a work in progress. The fools.
EXCLUSIVE: Writer/director Joe Cornish talks 'Ant-Man' – iamROGUE.com
"Yeah, Ant-Man is still going," confirmed Cornish. "Edgar and I were writing on it only the day before yesterday," he admitted. I followed up by asking if they were doing a lot of rewriting on the script. "Yeah, we're just drafting and drafting," he said. Finally, with Wright's busy schedule, I wanted to find out if Cornish thought that Edgar would still end up directing the movie. "Yes," Cornish answered. "I'm just a humble writer on that one," he said in closing.
Cursed with strange abilities, they are the X-Men. Or as reasonably close as Syfy can get without Marvel Comics slapping the cable channel with a lawsuit. From executive producer Zak Penn (writer of "X-Men: Last Stand") comes this series about seemingly average people with paranormal powers.