Swipe File: Miracleman Vs Being Human (SPOILER)
Here lie spoilers. Massive spoilers. Spoilers not only for the ending of the penultimate episode of Being Human Series 3, but also, I suppose for Marvelman/Miracleman if you've never read it.
So, going forward in this Swipe File, I'm going to presume you have encountered both. If not, please leave until you have. Because this spoils two major scenes from both.
Is the room clear? Good.
In Miracleman, we see the creature known as Kid Miracleman, returned to his childlike self unaware of his past, only for the beast to escape. And, after killing the boys who tormented and tried to rape him, to then do this to a nurse…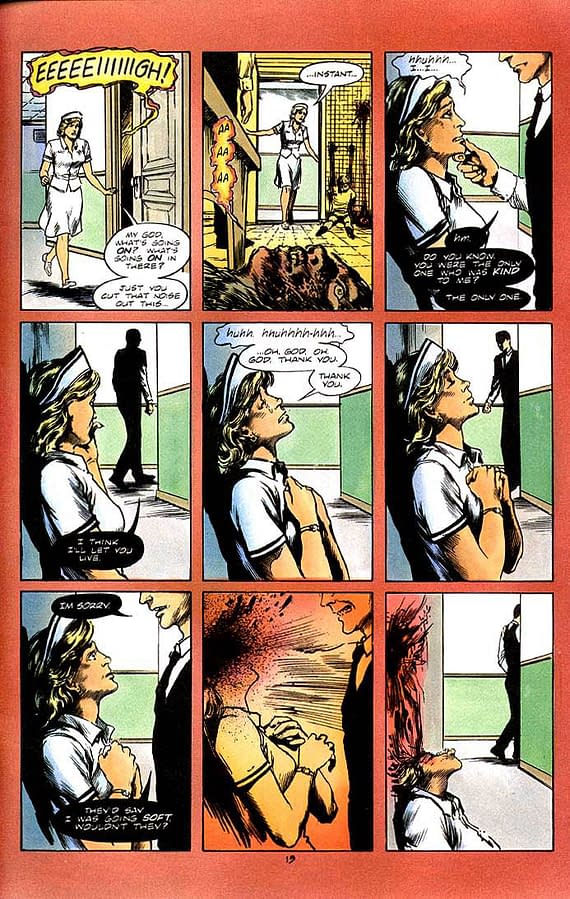 And in the final scene of the latest episode of Being Human (which I am rather glad I didn't watch in HD tonight) we see Herrick confront Nina, after he's awoken from a state of amnesia, and killed a house full of police.
And he says, after threatening her life;
You were kind to me. Everyone in the house wanted me dead except you. It's a knotty one.

You are right my quarrel is not with you.
He leaves. Then returns.
But then people would say I was going soft.
And he then stabs Nina in the gut.
Being Human creator and writer is Toby Whithouse. Who has been interviewed on his influences before. And he often mentions Alan Moore.
"Anything written by Alan Moore… You know, if Alan Moore had written a shopping list, I'd read it."

"Comic books were the sort of science fiction I grew up with, particularly British stuff like Alan Moore."
What are the odds one of them was Miracleman?
In Swipe File we present two or more images that resemble each other to some degree. They may be homages, parodies, ironic appropriations, coincidences or works of the lightbox. We trust you, the reader, to make that judgment yourself. If you are unable to do so, please return your eyes to their maker before any further damage is done. The Swipe File doesn't judge, it's interested more in the process of creation, how work influences other work, how new work comes from old, and sometimes how the same ideas emerge simultaneously, as if their time has just come. The Swipe File was named after the advertising industry habit where writers and artist collect images and lines they admire to inspire them in their work. It was swiped from the Comic Journal who originally ran this column, as well as the now defunct Swipe Of The Week website.