Swipe File: Surrogates Movie Campaign
These posters for the new Surrogates movie starring Bruce Willis based on the Top Shelf comic book series (oh and by the way, have you seen the original collection, the prequel graphic novel and the combined hardcover collection of both? They are Top Shelf sweet) are roaming the internet right now.
Anyway, I understand a new TV ad campaign for the movie starts tonight, screening a 60 second trailer during the ABC broadcast of Wes Craven's Red Eye, and these posters (courtesy of IGN.com) are a precursor.



And while they may be grossing some people out, this combination of machinery and model good looks is a lot more appealing than, well, this…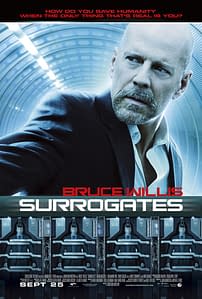 *shudders*…
But something was nagging at me… I know those images were familiar.
And then I found it.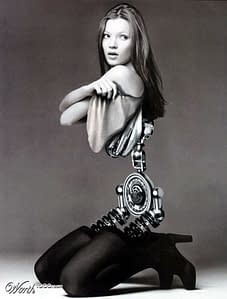 This Kate Moss altered image (left) was created by user bigbadski for the Celebrity Cyborgs altered images contest. Which had many images, but nothing came as close to the current Surrogates campaign as this one.
The image was also used in a post on Reverse Cowgirl about Posthuman Pornography back in February.
Which itself was inspired by a post on io9 about, well, the upcoming movie Surrogates.
Is that three degrees of Swipe File there?
In Swipe File we present two or more images that resemble each other to some degree. They may be homages, parodies, ironic appropriations, coincidences or works of the lightbox. We trust you, the reader, to make that judgment yourself. If you are unable to do so, please return your eyes to their maker before any further damage is done. The Swipe File doesn't judge, it's interested more in the process of creation, how work influences other work, how new work comes from old, and sometimes how the same ideas emerge simultaneously, as if their time has just come. The Swipe File was named after the advertising industry habit where writers and artist collect images and lines they admire to inspire them in their work. It was swiped from the Comic Journal who originally ran this column, as well as the now defunct Swipe Of The Week website.