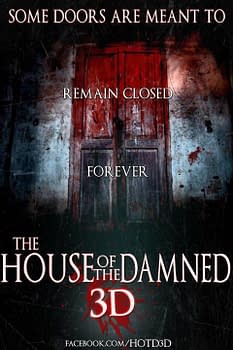 The forever prolific and recently creatively reinvigorated Takashi Miike is being sought to direct House of the Damned 3D, a Louisiana-set horror film with what sounds like a "body count" set-up. Here's the plot blurb:
Five friends band together to save the historic part of their town and inadvertently become targets of a serial killer after uncovering the truth behind a series of grisly murders that went unsolved … Until now!
This comes from MarketSaw, the passionate 3D advocates. They'll be all over this project because it's due to be shot in native stereo video.
They also have a quote from one of the film's producers, Ethan Terra:
Our goal is to cross utilize the 3D to submerge the audience so they feel like they are apart of the movie, and of course to pull off some really cool in depth 3D effects. Because this film is controlled by an independent studio we have more creative control over what we can and can not do, and this film is aimed right at the horror fan in all of us.
Of course, he would say that. And, to be honest, those are pretty modest ambitions for 3D. It's capable of much, much more than just creating a sense of depth and space. What about the potential for controlling that depth and space to manipulate audience attentions and sympathies and responses?
Miike staged his recent remake of Hara-Kiri in stereo, and to great effect. At least, that's what Craig Skinner tells me – I'm still waiting to see for myself. But I think he's a pretty solid choice for a 3D horror film, particularly in the very thoughtful mode he's adapted of late, where the craftsmanship of his films has truly excelled.
A March shoot date is apparently already inked, with a director yet to be signed. Whoever comes on won't have much time to work on the script, or contribute to the casting. We're having to trust that the producers have set that all up okay.
At the moment, the only actor known to be signed up is Booboo Stewart, a member of Twilight's Wolf Pack.
I'm thinking there's a lot to still be nailed down with this film, a lot of holes to be filled. Should it maintain an interesting course (ie. if this Miike talk isn't just hot air), I'll keep you updated.
Enjoyed this article? Share it!