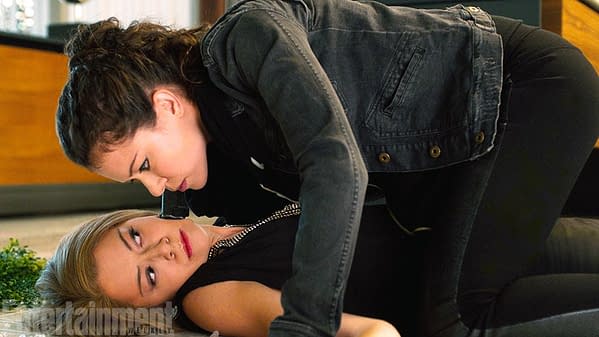 Since those teaser trailers didn't offer up anything tangible on the new season of Orphan Black, EW have managed to wrangle the above photo depicting an actual scene from the season 2 premiere, which sees Tatiana Maslany pulling double duty yet again.
It's Rachel vs. Sarah (clone vs. clone, Maslany vs. Maslany), and creators John Fawcett and Graeme Manson tell EW that'll be a running theme:
EW: What else, if anything, can you tell us about this image here and what it means for season 2?

MANSON: Probably that if Rachel launched the first volley in this war, this is one of Sarah's steps in this war.

FAWCETT: Our launching framework for season 2 is really the war between Sarah and Rachel.
Even with Rachel a central villainous figure in season 2, that doesn't mean there won't be even more work for Maslany to do.
Okay, so would it be safe to assume we will be seeing some new clones this season?

FAWCETT: I think of course it's safe to assume that. We are really excited about doing that. We want to do it in a way that is unexpected. We want to do it at a time that's unexpected. But it is obviously something that we talk about a lot. And it's part of the fun of making Orphan Black and making a show about clones is that we can be having those discussions. We have some surprises in store.

MANSON: Yes, we do.
Be sure to hit up EW for even more insight from Fawcett and Manson. Orphan Black returns to BBC America in the US and to Space in Canada on April 19, 2014.
Enjoyed this article? Share it!