Teenage Mutant Ninja Turtle Toys Give Us Better Idea Of The Crew's New Look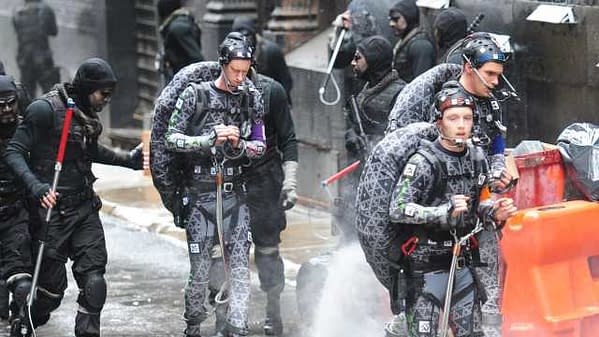 Thus far the only glimpse of Michael Bay's new Ninja Turtles we've gotten is from the above set photo, featuring the actors strapped into some turtle-esque motion-capture suits, but now, thanks to some toys, we may have a better idea of how the crime-fighting reptiles will look on screen.
Idle Hands got the scoop from someone who saw the toys in person at a toy fair, and among the highlights of what he saw: the turtles will look like actual turtles, rather than aliens, and each turtle will wear his traditional color, and carry his usual weapons:
2 swords for Leo, a staff for Don, 2 sais for Raph, a pair of nunchucks and a three sectioned staff for Mikey.
Also each turtle will have his own physique, which makes sense given the very different physiques of the actors hired to mo-cap each character, and also, there's some detail about the getups:
Styles of dress are different as well with Leonardo in a sort of pseudo samurai gear get up including shoulder armor, some leg bits, arm bracer and foot wear up to the calf with bindings showing. He might have some armor (non metal) along his chest as well. Donatello's gear is a mix of techy, modern and a dash of samurai with more normal footwear (for a 2 toed giant turtle), some gadget on his head and gadgetry coming off of his shell. The ends of his mask are far longer than the rest, draping down to his waist. Raphael has adopted an urban warrior look with white, bandage-like wrappings on his feet, right leg, and right arm. He wears this very conan-esque loin cloth..thing..with leather straps draping down as if he were more suited for gladiatorial battle. Michelangelo's outfit seems the simplest with a hoodie wrapped around his waist, pants and sneakers with the toes cut out, wrappings on his hands and forearms, a necklace (could be puka shell beads?) and his mask ends drape down to his chest. He looks frighteningly ready to spit out some modern catch phrases.
So this is all basically second hand info based on one person's interpretation of some toys which, Brendon assures me, are really not exactly like their onscreen counterparts. The actual movie turtles will be much more textured and the CG is not "overtly cartoony."
In any case, the new Ninja Turtles comes out in May so we should be seeing some actual stills and footage soon.