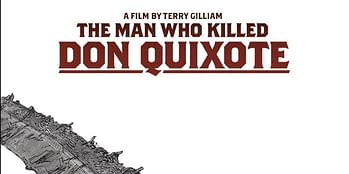 The collapse of Terry Gilliam's first attempt to film The Man Who Killed Don Quixote is so well documented I don't think we need to get into it here, but it's worth mentioning the film's recent history. In short: Gilliam keeps trying to get the money together, and it keeps almost happening, and then it doesn't, not quite.
Robert Duvall has been attached to play Don Quixote, and possibly still is, and Ewan McGregor was lined up for the lead role of Toby Grossini, but now isn't.
But where does the project stand right now? The latest info we have comes from an interview with the film's co-screenwriter, Tony Grisoni "interviewed by email in February 2012" at the blog Money Into Light.
Grisoni tells us:
Us survivors of Don Q are a strange kind of dysfunctional family. Every year since we have rewritten the screenplay. And we've got quite good at it. You will be pleased to hear the Don is back up and in the saddle and ready to ride under new colours.
Yes, I would be pleased to hear that.
No more details were forthcoming, but it seems that Gilliam and co. may be pulling it all together again.
The last draft of the script I read was at least two iterations out of date, if Grisoni was being plain about annual rewrites, but what I saw was quite an extraordinary piece of work. I hope we do get to see it realised, and soon.
While we're here, he's an embedded version of Gilliam's recent short film The Wholly Family. You can't just play it, you'd have to rent it with a micro payment – not my choice – but the money does go to Gilliam, and the film is superb. Choose the trailer option for a free preview.
Thanks to Little Bleeder Jerome for the point towards Money Into Light.
Enjoyed this article? Share it!