It's been a long time since I've updated you on The Zero Theorem, the new sci-fi-ish black comedy from Terry Gilliam, and that's largely because I never want to rush the updates on you. I want to take time with it, and have something a bit meatier to offer.
Well, too late really, because the little bits and pieces of news are starting to pile up, so I'm going to have to do this catch-up post just to stop from drowning in them.
First of all, here's a logo for the film. Likely a simple placeholder, it's of interest mainly because it shows how Voltage Pictures, the finance and sales company behind the film, are deciding to portray it to potential distributors.
Yep, for some reason they think The Zeto Theotem has a better chance of selling than anything with an R in it.
That comes with this blurb:
An eccentric and reclusive computer genius plagued with existential angst works on a mysterious project aimed at discovering the purpose of existence—or the lack thereof—once and for all.
Also on Voltage's site is a "Company Biography" that includes the following bit of Zip-T goodness:
What's up next: Voltage is producing Terry Gilliam's Zero Theorem, starring Christoph Waltz, David Thewlis, and Tilda Swinton.
So let's add David Thewlis and Tilda Swinton to Bleeding Cool's published index of Zero Theorem stars.
A quick bit of googling of some of the known talent in combination turns up a story in Le Petit Journal, and subsequently The Playlist, that also adds Melanie Thierry to the roster.
She says:
I have a great role, a girl completely enlightened, crazy crazy, funny … I'm going to play this fun girl.
By which she means Bailey, the one that always seemed like Scarlett Johansson to me when I read the screenplay.
Now, I can't quite match both of Thewlis and Swinton to key roles of the draft that I read, or maybe I'm just not thinking as freely about it as I need to. Either way, they're both tremendously charismatic and convincing performers, in their modes, so I'm happy to see them both on board.
One of the small dramatic challenges this cast will face appears to be… bald heads. Gilliam gave an interview to the French magazine So Film recently, and said of Zero Theorem:
Right now, I'm working on a project where all the actors are hairless, with clean-shaven heads. So, yesterday, I spent the evening erasing their hair on Photoshop. I had good fun.
And then he made their teeth dance and a giant foot come down and squash them? You know, when I think about Terry Gilliam playing around with Photoshop, I start thinking about him playing around with Flash animation and then I wonder why he just doesn't, sometimes?
With just one month left until actual production begins, prep has gone way beyond baldifying Tilda Swinton on a computer screen. Gilliam yesterday updated his Facebook with this:
Back in Bucharest with one month to go before the start of shooting of The Zero Theorem. Here is a sneak peek at the chapel set. But from the outside. You'll never see this angle in the film.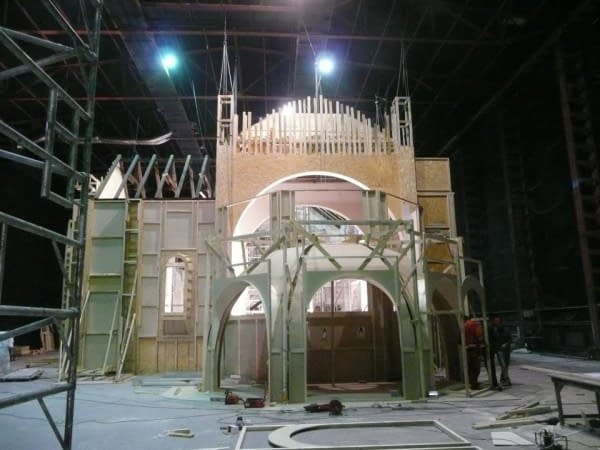 It's inside those walls that pretty much everything in this story takes place. It's not that The Zero Theorem is small scale, though. No. Quite the opposite…
More soon, I'm sure. Thanks to Little Bleeder Jerome for his tip.
Enjoyed this article? Share it!