That Big Spoiler Cameo Scene In The Middle Of X-Men: First Class (SPOILERS)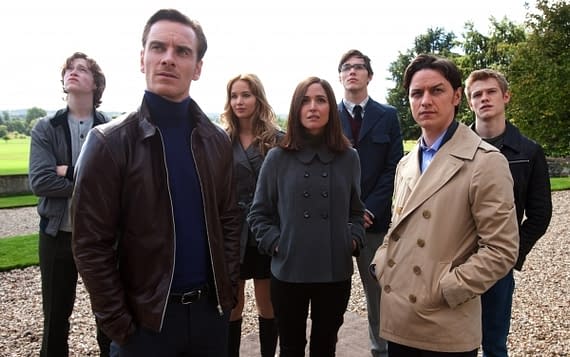 There is a scene in X-Men First Class that is so surprising, funny and quite, quite brilliant, that everyone we spoke to at the preview last night decided we should keep secret.
Sadly the British tabloid press has not regarded it as quite so sacrosanct. All we can say is try to avoid any Daily or Sunday Mirror coverage of the film, or its journalists, if you want to avoid such a spoiler. Possibly stay off Twitter too.
But since it's out there, like the Ryan Giggs story, it's going to get talked about. So we are going to talk about it. To avoid the spoiler, do NOT highlight the text below. We know some of you like spoiler coverage, we know most of you hate it. So. Be warned. This is as spoilery as it gets. Okay.
Half way through X-Men: First Class, as Professor X and Magneto are travelling the world looking for mutants, they come across Wolverine, played by Hugh Jackman, in a bar. Before they can get a sentence out, Wolverine, without looking at them tells them to "Go fuck yourselves." They leave.
The character's appearance gets a laugh, his attitude and language gets a double laugh, repeating on itself, through the audience. It's a superb scene, well played, well staged, well placed. And it's the only moment such language is used in the entire film. We loved it.
Spoiler over. Consider yourselves warned. Please do not repeat the spoiler in the comments, or in any article, blog or tweet linking to this site. Also, do not click or hover over this link that may inform you as to when the scene was filmed.
And there is another big cameo in the movie as well, which no British newspaper has spoiled yet. Possibly because they don't realise it was a cameo. But every single one of you will. And we're not saying a thing about that one. Yet.