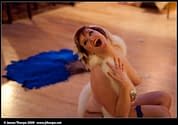 If your interest in the Dodgem Logic Launch Party since those first videos of Alan Moore singing hit the net has only been exacerbated in the past month, here's a treat, courtesy of burlesque photographer James Thorpe.
Who, as well as taking photographs of the dancers, also took the following videos of Khandie Kisses, Nicole A Lure, Darkteaser and Luli Blue at the show…
As well as Jake Moore launching the show and introducing singer/songwriter Winston Echo.
And Alan Moore and Norman Adams gives their versions of what it's all about to FilmLab
Enjoyed this article? Share it!