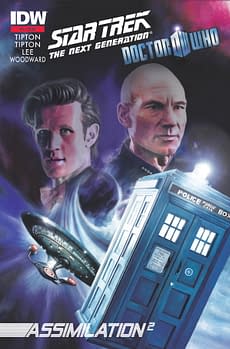 Next week sees the launch of IDW's Star Trek: The Next Generation/Doctor Who: Infestation 2 comic. Already sold out and going to a second printing, the book is a hot comic, especially in the UK where Doctor Who is one of the most mainstream successful shows in the country, regularly beating the top soaps, sports matches and reality TV shows.
And unlike previous Doctor Who comics that have been restricted from being distributed in the UK, because IDW used Star Trek first in the title, it technically comes under the Star Trek distribution licensing terms, which are valid in the UK.
But sadly, it seems, Diamond UK have had to inform stores that they will be allocated on this comic, receving at the most, three quarters of their orders, with no more copies available until the second print comes.
It's just possible there may be riots. Especially around London's Forbidden Planet the weekend after, where the comic's co-writer/advisor Tony Lee is doing a signing.
If only someone had a time and space machine, so you could go back and grab the missing amount, warehouse it in somewhere that's dimensionally transcendant and deliver it next week. Hmmm, you know, Diamond Comic Distribution would kill for a TARDIS…
Enjoyed this article? Share it!