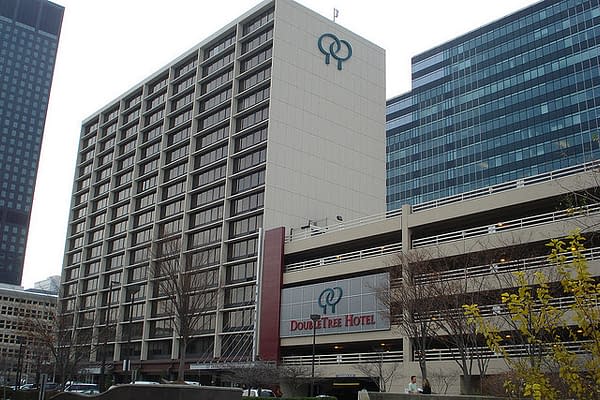 The City of Cleveland have announced that, this weekend, part of the city will be closed for prep and then filming of The Avengers.
On Saturday, August 6, 2011, E. 9th Street from Euclid Avenue to Prospect Avenue will be closed to traffic from 8:00 am – 12:00 noon as the production team for Marvel's Studios' The Avengers prepares for the start of filming on Monday, August 8, 2011.
We understand that filming will actually take several weeks, likely running into September, and that there will be some first unit work taking place. What we have above are just the first road closure details with much more to come in subsequent weeks.
Interestingly, this stretch is just around the corner and intersects with the area of Cleveland given over for filming on Spider-Man 3. For a look at the neighbourhood, go to your DVD copy and check out the armored car chase with the Sandman. All of the exterior shots during this sequence are part of Euclid, down where it crosses the very road which is being closed for The Avengers.
Huh? What do you mean you don't have Spider-Man 3 on DVD?
Well I do. And, yes, despite the fact that it goes to pieces and I don't think I'll ever watch the last thirty minutes again, I'm happy to have it to hand.
Something tells me Cleveland could well be standing in for New York again.
[youtube]http://www.youtube.com/watch?v=00sfSO096v4[/youtube]
Enjoyed this article? Share it!