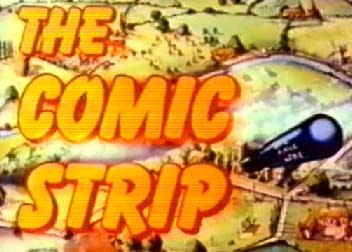 Channel 4 have announced the return of The Comic Strip. Originally three comedy double acts (French and Saunders, Mayall and Edmondson, Planer and Richardson) who performed in their own club under the Raymond Revue Bar in London, The Strip went on to provide some of the best loved satires of 1980s British telly.
One of the original six, Peter Richardson, has co-written the new script with Pete Richens, as was the case with many of the vintage episodes. It's to be called The Hunt For Tony Blair, and is billed as "a 50s style 'fugitive' film noir spoof."
Filming is has yet to begin, but I'd expect they're planning this for the Christmas/New Year schedules. The previously-accurate Complete Collection DVD set should keep you busy between now and then.
From the press release:
Prime Minister Tony Blair (Stephen Mangan) is wanted for murder and on the run. Escaping from Number 10 and leaving behind his adoring wife Cherie (Catherine Shepherd), Tony vows to clear his name no matter what the consequences.

But on a foggy London night, Tony has few friends willing to harbour a wanted man and with front pages demanding his capture, Blair has no choice but to go on the run, with Inspector Hutton (Robbie Coltrane) and his sidekick (James Buckley) hot on his trail. The chase unfolds thanks to evidence gleaned from his 'allies' Mandelson (Nigel Planer) and Brown (Ford Kiernan), as well as an unlikely encounter with Margaret Thatcher (Jennifer Saunders – a la Bette Davies in 'Whatever Happened to Baby Jane'). Surely Tony's an innocent man, pursued for a crime he didn't commit?

The cast also include Harry Enfield as Alistair Campbell, Rik Mayall as Professor Predictor, Morgana Robinson as Carol Caplin, John Sessions as Thatcher's butler and Ross Noble as an 'old Labour' Tramp.
Some new names – Buckley, Noble, Robinson; but lots of old tricks – Saunders as Davies as Thatcher. For bloggers of a certain persuasion (cough Rich cough) this will be a must.
Enjoyed this article? Share it!