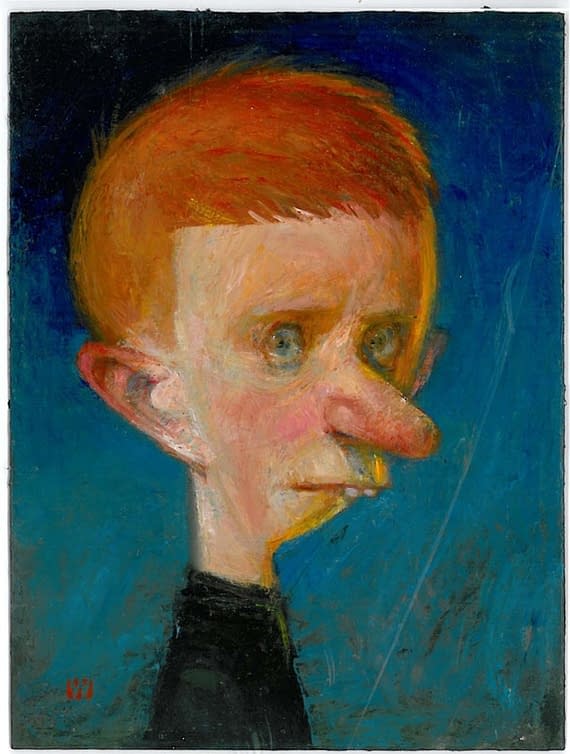 Coming from the "film side" of Bleeding Cool, what I'm supposed to know about Bill Watterson is that he comes from Chagrin Falls, as does Toy Story 3 director Lee Unkrich; I'm also supposed to tell you about Secondhand Lions, Tim McCanlies' beautiful Watterson tribute.
That's all true, and I'm happy to oblige, but let me add that I've been in love with Calvin and Hobbes since I first saw a copy of a collection at a friend's house, borrowed it away and read it cover to cover on the long bus trip home.
It doesn't really feel like sixteen years since Watterson's last Hobbes strip was published – and, if I'm being pedantic, it wasn't. It was fifteen years, three months and twenty two days. To the nearest day.
We've seen no new work from Watterson in all that time, but this changes today as the above image, titled Petey, was published at Comic Riffs. Petey himself is a character from Richard Thompson's strip, Cul de Sac.
The painting has been created as part of the Team Cul de Sac project, a fund raising initiative that aims to raise $250,000 for Parkinson's Research. Thompson was diagnosed with the progressive neurological condition.
It looks like publishers Andrews McMeel are still looking for artists to contribute to a book of Cul de Sac tribute pieces. Could they be waiting for you?
We'll let you know when the book is due for release, and how you can go about buying a copy.
Enjoyed this article? Share it!