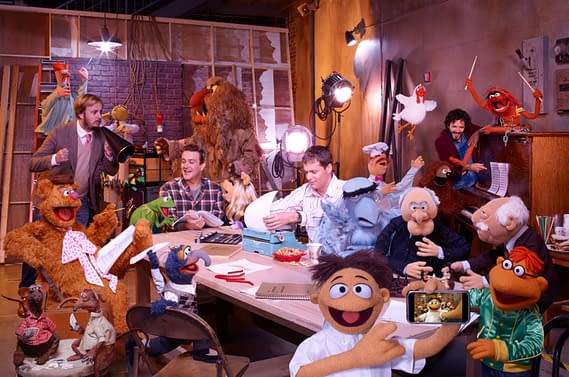 With production on James Bobin's The Muppets finally, excitingly underway, more details are coming to light about some of the human supporting players scheduled to appear.
Here's a list of recently named joiners, with details on their characters where possible. There are light spoilers inherent in this list.
Eric Stonestreet, John Krasinski and Ed Helms – Lady Gaga's entourage. I don't know if Gaga is in as well as the pop stars named in the script, or instead of them but I expect the latter
Jane Lynch – A prison guard with that special Jane Lynch vibe
Danny Trejo – A prisoner with that special Danny Trejo vibe
Donald Glover – I have no idea what role he has, but I'd die of joy if they acknowledge his Spider-Man campaign some how
Jack Black – In a recent-ish draft of the script, Black plays himself and has a good number of scenes
Zach Galifianakis – A hobo called Hobo Joe
Alan Arkin – I've got no idea, but there's a judge character he'd be really good for
Barbara Eden – Jeannie, as in I Dream Of…
French Stewart – Gabe Lou, wristwatch salesman. Wristwatches and indeed clocks and time in general are of some importance to the plot
Kristen Schaal – The moderator of an anger management group. There was a great cameo scripted for this scene and I hope the (rather serious) actor in question has agreed to do the scene
The little sequence in the prison is one of my favourite bits of the screenplay and contains one of the most fun cameos you can imagine, from somebody not on this list. Use your imagination and Muppet trivia recall.
Finally, there was a rumour that Paul Rudd would be playing the voice of Walter the Muppet but Jeff Sneider says no. I guess we're back to Michael Cera…?
Filming is taking place on La Brea in Hollywood this weekend, likely right by the Muppet studios. Let me take this opportunity to profess my undying and only-slightly-conditional love of everybody in the area with a camera. You know where to reach me…
Thanks to The Wrap and Production Weekly for the casting info. Thanks to The Muppets for… well, everything, really.
Enjoyed this article? Share it!