Don't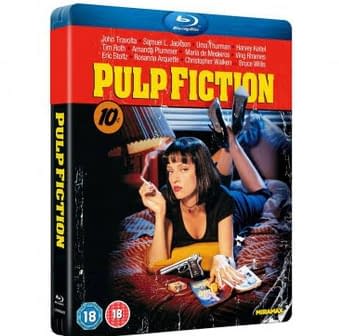 worry, Pulp Fiction hasn't been given a new edit or had a CG facelift. In many respects, the new Blu-ray presents the film exactly as you would remember it.
But is that the same as exactly as you would expect it?
The process of mastering a Blu-ray typically employs laser scanning to convert the film to digital format. It's a relatively new technology, but it gets incredibly stable results – far better than what was possible from the old telecine technique.
In a telecine, a film is scanned while being projected onto a screen or into a CCD. As a result, the quality of the resulting video or digital image may vary. There's always a small amount of gate weave, the movement of the film as it passes through the gate behind the lens where it meets the light from the projector bulb.
You have probably encountered this if you've seen films projected in 35mm where the film appears to shake a little or even a lot.
For the recent "Director Approved" transfer of Pulp Fiction on Blu-ray, Tarantino appears to have chosen to have the film captured through a telecine process rather than be scanned.
As a result, the image is less stable than we've come to expect from a Blu-ray, with tiny movements up and down, left and right and, though you'll hardly notice it, even if you look for it, in and out of focus as well.
This is clearly Tarantino's preferred aesthetic. It's not necessarily mine, and it's not really what AV buffs have come to expect from freshly minted Blu-ray releases either.
But I support the choice 100 percent.
This is how Tarantino wants his film to look, and it's just one more step along the line from casting and production design, through lighting and framing, into editing and colour grading the original prints. Until the film is in our hands, it's the prerogative of the director to manipulate it into having the look or feel that they prefer.
This transfer is, in most respects, absolutely cutting edge. The 1080p image is perfectly sharp nearly every moment. The level of detail is astonishing. In fact, some complex textures and images that should have been difficult to capture appear to have been no trouble at all. The colour saturation is back to what I recall from watching 35mm prints over the years, though the contrast seems to have been punched up a touch. There's some low-level strobing, likely to be another by-product of the telecine, but it's certainly not enough to distract anyone.
I reckon that this Blu-ray is as close to Tarantino's vision for the film as anything other than a 35mm print will allow. And it sounds superb too. It's genuinely fantastic. There's a pretty full sound stage, but it's never confusing. The salient audio and key effects are always discreet. Credit to the film's original sound team, Stephen H. Flick, Avram Gold and co.
While we're on the subject, I would like to flag up two of the special features which have been created just for this release.
One is a group discussion with Elvis Mitchell who, as I understand it, is a friend of Tarantino plus several other film critics and writers. Sadly, it's not really that interesting. They openly talk about themselves and their personal relationships with the film, which doesn't really add anything to the broader discussion. There's no big revelation to be found here except, perhaps, the surprise of hearing one of the critics, Stephanie Zacharek, admitting her personal issues with the film.
The other feature is a series of talking head interviews with actors from the film. There's John Travolta, Samuel L. Jackson, Rosanna Arquette, Eric Stoltz, Tim Roth and Amanda Plummer, all of whom have something interesting to say. Travolta and Jackson perhaps fare best with very candid accounts of how they became involved with the film in the first place. It's the best new feature on the disc and, aside from a Charlie Rose Show featuring Tarantino found also on the last DVD release, is the best supplement of all.
The Blu-ray is available now. In the UK, it's available for £11.97
and in the US, it's just $12.99.
At even twice that price it would come highly recommended.
Enjoyed this article? Share it!