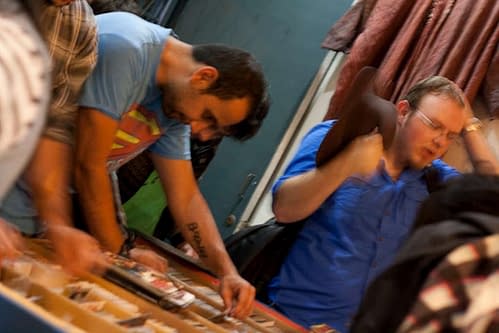 Troy talked to Bleeding Cool about opening the only comic store in Costa Rica, BoomShop.
There are a couple of other shops here that sell toys, games and whatnot and have a couple comics along with them, but we're the only real "comic shop". I'm amazed at the amount of people that keep asking me if there is enough comics to keep a comic shop going. I'm having to explain what a subscription service is. They are all amazed that they are getting comics regularly and only paying cover price.

I married a Tica (what they call Costa Rican women). She lived in the States with me and once when we came here for a visit, we went to a small comic gathering where lots of kids dressed up in comic costumes and a few bootleg vendors sold stuff.
I was struck they were all representing comic book genres, yet there were no comic books to speak of. I decided that this country needs a comic convention. So thats what I did, had a convention, BoomCon. It did good enough to have a second next year and after MANY roadblocks, we opened a store.

We've had a great response so far and haven't even gotten our first Diamond order. We're going to be carrying all new comics and graphic novels as well as as many back issues as i can fit in the store. We're keeping the local community involved by having party's and meetings here as much as possible.
We've done the soft opening last week and plan on the giant grand opening on March the 15th. We're doing a charity auction for a local childrens home and we're also going to fly a major artist down to do a signing and meet the locals.

I can't imagine why no one else has done this. I guess that makes me the biggest geek in the country too!
BoomShop is located in San Pedro across from the San Pedro Mall.
Enjoyed this article? Share it!