At the foot of the Zap2It article I linked to earlier today was the following statement, a kind of finger-of-blame pointed at director Wes Craven:
What gives, Wes Craven? You're supposed to butcher Ghostface's victims… not the script.
At the time, I discounted it as another online gossipmonger not quite understanding how filmmaking works and laying blame with the director just because. I didn't expect it would provoke such an interesting response.
Before long, Wes Craven himself had seen the comment, and responded via his Twitter account:
@Zap2it I have not been given control of the script. #SCREAM4
Now, this is interesting for many reasons, first of all being that Craven saw the blame being dropped off at his doorstep and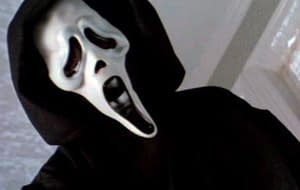 wanted to respond to it and, in effect clear his name. Secondly, it's that we now know he doesn't have script control and, as a result, has to shoot what he's given. Thirdly, he's not denying that the changes are being made or even that the changes are for the worse. And finally, he's prepared to air all of this in public – even with the #SCREAM4 hashtag in place.
Not to put too fine a point on it, I think it's fair to assume Mr. Craven is not very happy.
So how about writer Kevin Williamson? Has he broken his Twitter silence?
It doesn't look like he'll have to. While I've been writing this article, I see that Movieline have uncovered a key clue that might just prove Williamson is the source of the press leaks in the first place. They say:
On June 29th, the embattled screenwriter tweeted the following: "So nice to sushi with you @cadlymack and get to know you." Harmless, until you realize that @cadlymack is Carina MacKenzie, a writer for Zap2it and the author of the Scream 4 piece that was posted today (which quoted anonymous sources close to the production).
What we can also infer from this, though perhaps with some doubt, is that MacKenzie's willingness to blame Wes Craven comes from something Williamson told her.
For MacKenzie's part, she's now suggesting via Twitter that her story has multiple sources.
Best case scenario now is that Williamson is just feeling bitter or betrayed, or was clinging desperately onto an element of the script that did need fixing. Not a very pretty idea, though. Less pretty when you consider that, no matter what, Ehren Kruger is the man in charge of repairs.
Enjoyed this article? Share it!