DarkWatch: Howard Chaykin joins Neal Adams, Frank Miller and Paul Chadwick on Dark Horse Presents with Marked Man.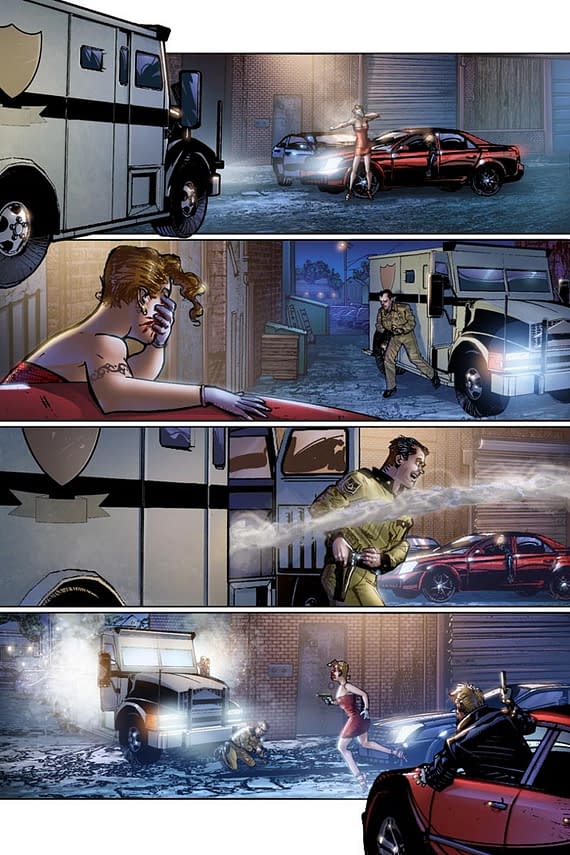 GrantWatch: The Australian premiere of Talking With Gods, the Grant Morrison documentary, will be on the 28th of January at the Australian Centre Of The Moving Image.
Then, when Leah was 15, with her mom's assistance, she began taking her art to parties at private homes and hosting events at libraries and recreation centers as a business.

"She was just a teenager when she started her cartooning business," Bobi said. "She's had as many as 144 kids at one time and they always seem to really enjoy it." This is The Bleeding Cool ComicChron Robot speaking. I come for your women. But for now I merely collate comic-related bits and pieces online. One day I will rule. Until that day, read on.
SRBissette.com – A Chat With Dave Sim Part 2
Creator responsibility: I'm the last person who should be talking about this, given my reputation for missed deadlines (particularly when monthly comics were the norm, in the 1980s, and it took me five-six weeks to pencil a monthly title), the lies I used to tell editors (poor Karen Berger!) to squeeze out another day or week of work, and worse.
Dini Talks TOWER PREP, ULTIMATE SPIDER-MAN, DC Titles, More
Coming up with a look for the Spider-Man show, I think it's really going to take people by surprise. It's going to take people by surprise as much as the Batman show in the early '90s took comic fans by surprise.
The Oddly Compelling Art of Denis Kitchen
At one point in the mid-90s (I think), comics writer Alan Moore suggested in print that Kitchen's art was actually really good and should be collected into a book. He even came up with the title. But Kitchen had been a publisher for so long that I think he felt something like this would be a vanity project.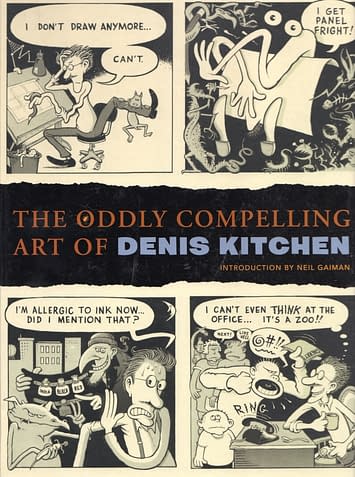 Hard Lessons That 2010 Taught the Entertainment Industry
1. Ruling Comic-Con doesn't guarantee a winning box office. The writing's been on the wall for a long time, but now it's totally legible. San Diego Comic-Con is a great place to build buzz for a new movie or TV series, but it doesn't guarantee anything.
A sort of virtual band, Gorillaz features cartoon characters 2D (vocals, keys), Murdoc Niccals (bass), Russel Hobbs (drums) and Noodle (guitar). The idea of using comic-book pseudonyms as a sort of "mask" for contributing artists came to Damon Albarn of Britpop band Blur and the British cartoonist Jamie Hewlett back in 1998. While watching MTV, the two say they were struck by the lack of substance in what they were seeing. Gorillaz, Hewlett says, was born as a comment on the nature of music television.
Memoir – RADAR S4 Ep 41 [vid] « Radar
When an entire town's memory is erased, it is dismissed by the rest of the world as an elaborate hoax. But one ambitious journalist is determined to expose the truth. Memoir is a graphic novel written by Ben McCool and illustrated by Nikki Cook who describe their collaboration as a "cross between Twin Peaks and the Twilight Zone."
J. Scott Campbell Interview on Vimeo
One hour J. Scott Campbell interview.
[vimeo]http://vimeo.com/18239382[/vimeo]
comiXology celebrate 1 million app downloads, 5k titles in ebookstore
The expansion of its library follows a banner year in 2010 with comic book fans everywhere making it the top grossing book app on the iPhone with 1 million iOS app downloads. The Marvel and DC Comics apps, powered by comiXology, were also in the top ten grossing book apps for the iPad. In addition, comiXology ended the year with a 1,200% year-over-year increase in comic sales during the Christmas period (December 25th -28th).
Interview with Jim Lee about DC Universe Online – SGNL on Vimeo
Anthony Carboni, host of SGNL by Sony heads to the La Jolla, CA headquarters of Wildstorm Productions to talk to DC Comics Co-Publisher Jim Lee about DC Universe Online.
[vimeo]http://vimeo.com/18121203[/vimeo]
USPS News Release: Pixar Postage Stamps
This pane of 20 stamps includes five different designs featuring Pixar characters: Lightning McQueen and Mater from Cars (2006); Remy the rat and Linguini from Ratatouille (2007); Buzz Lightyear and two of the green, three-eyed aliens from Toy Story (1995); Carl Fredricksen and Dug from Up (2009); and the robot WALL*E from WALL*E (2008).
New Green Lantern Image Showcases Tomar-Re | Superhero Hype
Today's comic book store release of Green Lantern #61 contains a special treat for fans looking forward to next summer's Green Lantern feature film.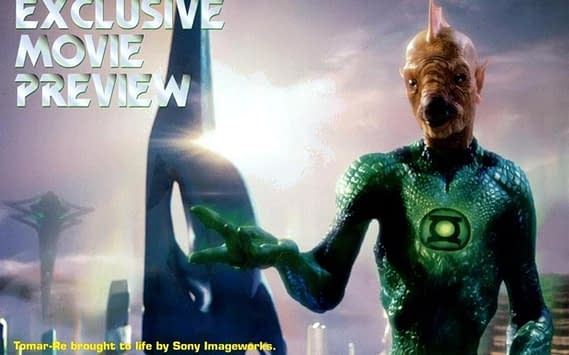 Enjoyed this article? Share it!