Yesterday morning, Leicester Square (where I'm doing some freelance) looked like this. Children and the occasional mother queuing for the Twilight: New Moon premiere ten hours later.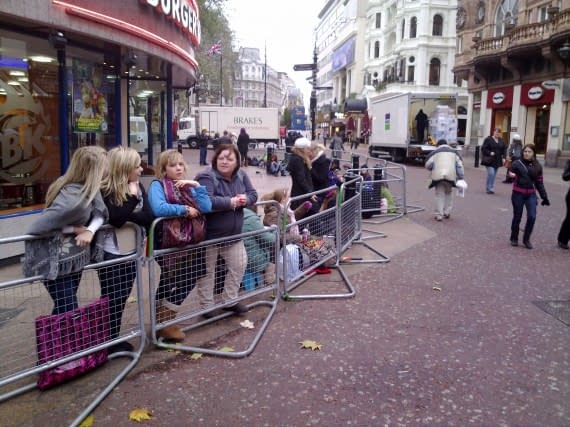 All fine and dandy though, you know, school truant officers? Hello? But getting out of work later was almost impossible.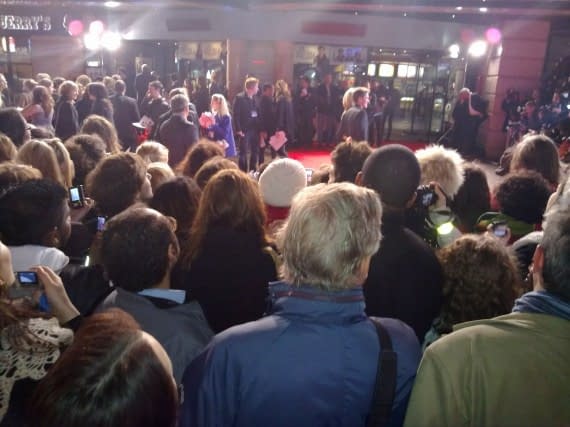 Twilight ruined Leicester Square.
—
I wonder… with BBC America advertising Vertigo Crime Comics and DC Comics showing BBC America ads for Doctor Who… did any money actually exchange hands?
—
Remember the comic shop opening news story we linked to the other day? CJ Comics in Old Bridge? Well, it seems a can of worms has been opened up.
On the Central Jersey newspaper thread, there are allegations of a sexual nature towards the owner, that the shop is not new, it's just a publicity stunt, that the owner was previously the landlord of the old shop and never an old comics fan and a whole blog dedicated to the whole previous situation.
Oops.
—
Watchmensch. my little Watchmen parody that could, is already up at PanelFly in black and white and will be going up at Comixology in colour any day now, courtesy of the man who used to co-publish and colour the covers of Dirtbag and X-Flies, Mike Meyer – but it also is being published as its own standalone App, with a brand new comics reader, the Weasel Reader, for the iPhone designed by the people of iBuddha.
And, well, it's rather a revelation, preserving much of the actual reading experience in a brand new format. And I understand the good folk at iBuddha will be interested talking with others publishers over how they can help improve their customer's reading experiences.
—
Also in digicomics news the Digital Comics reader for the Sony PSP has gone live with the new PSP firmware 6.20 update with the comics store itself launching in December.
—
David Small's acclaimed graphic novel Stitches doesn't win a National Book Award. I love how that is a story here, when the actual winners aren't…
—
Warren Ellis has retweeted that Global Frequency may be returning to television with The CW funding a new pilot, written by Scott Nimerfro. The original 2005 Warner Bros pilot was terribly Fringe-y, and since JJ Abrams show it's possible comparisons may be made… just insert swearing, that should do the trick!
—
CTM Media, majority owners of IDW and buying back stock, making an offer to buy back three million shares at $1.10 a share…
—
Eddie Campbell hits the Wall Street Journal...
There's a new book coming out next year called "The Playwright," which is about the sex life of a celibate, middle aged man. There's a lot of wanking in it. I don't know how you'd translate that for the Wall Street Journal.
—
JM Ken Niimura looks at how you may an eight page backup comic for Amazing Spider-Man. Like what he has just done.
Enjoyed this article? Share it!