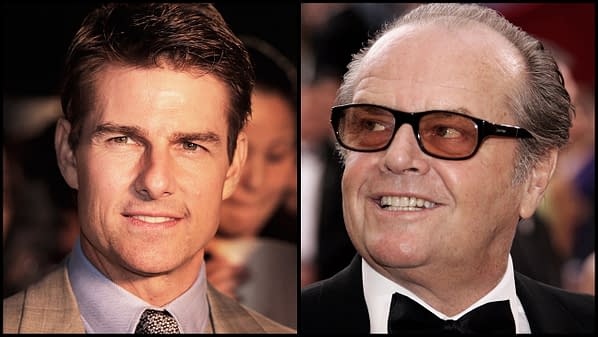 Tom Cruise is pulling out all the stops to get Jack Nicholson back on screen with him, according to THR, though that's easier said than done.
The two movie stars have not worked together since 1992's A Few Good Men, but now Cruise has a project he's desperate to get Nicholson on board for. El Presidente will see Cruise as a "straight-arrow" secret service agent who's tasked with guarding the worst ex-President of the United States, a boozing, womanizing sleaze who only became President because he was a VP when the elected President died. A threat is made on his life, and the two must go on the run together.
This certainly sounds like a role that Jack can have a lot of fun with and charm the hell out of, but I imagine – like all offers he gets these days – the film needs him more than he needs it.
Doug Liman has agreed to direct Cruise in the film, and director and star drove to Nicholson's home in order to convince him to take the part, with Cruise telling his old co-star that he won't do the movie without him. A little peer pressure never hurt, but so far, Nicholson has only agreed to read the script, nothing more. The famously picky (though, thankfully, not retired and not suffering from dementia) actor hasn't done a film since 2010's How Do You Know.
So, you know, not exactly the pinnacle of a decades-long career to go out on, but there was also this memorable moment with Jennifer Lawrence at last year's Oscars. Yeah, he's still got it.
Enjoyed this article? Share it!