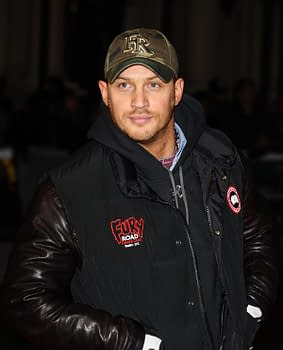 Tom Hardy is tackling dual roles for his next trick, with Screen Daily reporting he's in talks to play a pair of twins in Working Title's Legend, about Ronald and Reginald Kray.
The Kray twins became infamous gangsters responsible for crime sprees in the UK in the 1950s and 1960s. Brian Helgeland wrote and will direct the thriller later this year, previously mentioning that the focus will be on Reginald Kray, the older of the two by 10 minutes and the slightly more responsible one, who struggled to control the "psychotic tendencies" of his younger brother.
The film will also feature other real life criminal figures and associates of the Krays, including:
notorious gangster Jack "the Hat" McVitie, who was murdered by Reginald in 1967 – politician Lord Boothby, and the brothers' nemesis in the police force, DS Leonard "Nipper" Read, who made it his life's ambition to put the Krays behind bars.
But, Screen cautions, it's not a sure thing for Hardy yet, as this is one of several offers he's weighing.
Enjoyed this article? Share it!