In 2018, Walt Disney World will open its newest expansion, Toy Story Land, inside Hollywood Studios. For years people thought HS was a good half-day park. When I went for the first time two years ago I was inclined to believe that, and even after my past few visits this year, I still agree. The addition of the new Star Wars stuff has certainly elevated the park and made it more interesting, but it still doesn't feel like a full-day park. Heck, half of it is still under construction. Either way, WDW News Today has been doing a good job of keeping us up to date with some new Toy Story Land construction shots!
Currently inside Hollywood Studios, you can ride the insanely popular Toy Story Mania 3D shooting game, and you can meet Woody and Buzz. The Green Army Men walk around and talk to people, too — they're really cool characters and fun to meet. At Disneyland's California Adventure there's a whole Pixar Land, which while beautifully themed, doesn't have a huge Toy Story presence. Meanwhile, in Hong Kong Disney, there is a Toy Story Land, and it looks amazing: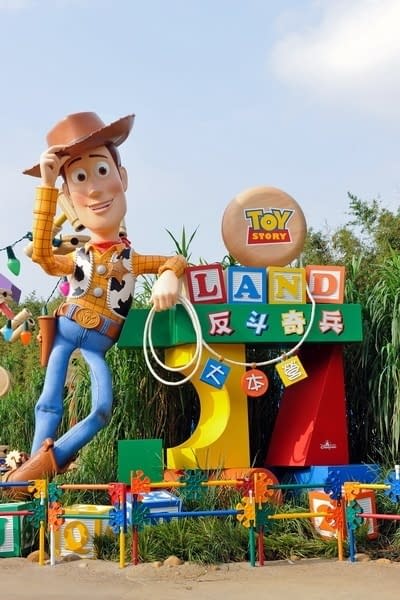 The next five years are going to be huge for the Florida-based theme park. If you're planning a family vacation, I highly suggest going in October of 2018. Crowds will be low and all of the new lands will be open and running. Plus, if you time it right, you may even get to check out the Halloween party in Magic Kingdom — it's awesome. I can't wait to see all the new stuff Hollywood Studios has to offer. 2018 can't come quick enough!
Enjoyed this article? Share it!