QuoteWatch: "I don't have a copy of Watchmen in the house. I'm glad the work is out there in the world, having an effect, but it's like I've gone through a messy divorce. – Alan Moore.
QuoteWatch2: Things From Another World.com becomes a testinomial case for buySAFE.
"TFAW.com utilized a split A/B testing methodology to objectively measure the conversion, sales and profit impact of using the buySAFE program. The results were convincing. By utilizing buySAFE, TFAW.com increased its order conversion rate by 7.7%. The test was conducted over a multi-week period. The results were highly statistically significant with tens of thousands of unique visitors included in the test."
CampaignWatch: The campaign for a Damian series from DC starts here. I totally concur.
AwardWatch: Taiwan-based artist Chiu Row-long won the award for best drawing in the single-edition category for his comic book "Manhua Bale" at the Algiers International Festival of Comic Art Oct. 8th.
The 46-year-old artist, son of renowned comics artist Chiu Hsi-shun, said he was interested in the history and culture of Taiwan's indigenous peoples. In his career, he has made several comic works related to the topic, prepared sketches for aboriginal language textbooks and helped compile teaching materials for the Atayal, Bunun, Tsou, Kavalan and Seediq languages.

Chiu, whose wife is an ethnic Seedig, said, "Aboriginal people are the real masters of the land of Taiwan, and Taiwan will stand out in the world only when it learns to appreciate its indigenous cultural heritage."
NotSureWatch: Did The International Business Times get a scoop, or…
"The Kindle Fire will also come bundled with exclusive content. Comic geeks will get a kick out of the 100 DC comics bundled with the Kindle Fire including a never before released edition of the classic Watchmen." SatrapiWatch: Archaia are to publish Marjorie Satrapi's The Sigh in English.
"Marjane Satrapi, author of the critically acclaimed, bestselling 2000 graphic memoir, Persepolis, will publish the first English edition of her new graphic work, The Sigh, with L.A.-based indie comics house Archaia this November. The book is Archaia's initial effort to expand its list to include a great number of foreign titles as well as new graphic books that challenge the conventional notion of what a graphic novel should look like."
WorkshopWatch: Jenny Frison runs a comic book workshop for kids.
Noah Rogers, 13, drew a fierce, spike-haired hero who he said was his alter ego. He said he enjoyed being around other comic lovers.

"My dad signed me up for it," Rogers said of the event. "It's cool being here. It's cool being around my kind of people. I have a lot of friends, but they don't like to create comics."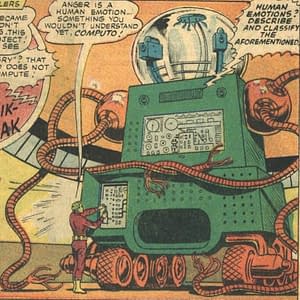 This is Computo the Comic Link Conqueror speaking. I come for your women. But for now I merely collate comic-related bits and pieces online. One day I will rule. Until that day, read on.
They say I am a work in progress. The fools.
Riot on the Set? Brad Pitt's Zombie-Fighting Weapons Seized by Real Cops! – E! Online
Hungarian authorities converged on the Budapest set of Brad Pitt's latest film, World War Z, after hearing that the production possessed a massive live weapons cache that, per police, was an accident waiting to happen. The special team seized ammunition and 85 guns, ranging from AK-47s to sniper rifles, that weren't supposed to be fully functioning assault weapons.
'Mister Terrific': A first look at the second issue | Hero Complex – movies, comics, fanboy fare – latimes.com
Next year marks the 70th anniversary of Mister Terrific, the comic book character with a truly awful fashion sense, even by mystery-men standards of the Roosevelt years (Mr. T rocked a Christmas color scheme and the words "Fair Play" emblazoned across his abdomen). Maybe it's no coincidence he had no real traction in the public imagination. In 1997 the name was adopted by a very different character in the DC Universe and now, with The New 52 initiative, there's another rebirth of a sort with cosmic overtones. We have an exclusive preview of issue No. 2, which hits stands in upcoming weeks and features the first appearance of a new villain, Brainstorm
Enjoyed this article? Share it!