PitchWatch: The 48 hour pitch for the DC Relaunch as experienced by Kelly Sue McCornick.
DateWatch: Note the problem already.
SUPERMAN #1
On sale SEPTEMBER 28 •
The new adventures of Superman begin here!

STORMWATCH #1

On sale

SEPTEMBER 7

•

They are Stormwatch, a dangerous super human police force whose existence is kept secret from the world 

Directly following the ominous events of SUPERMAN #1

, Adam One leads half the Stormwatch team to recover the [INFORMATION REDACTED] from deep in the Himalayas.
Newswatch
: Batgirl on the front of the Daily
Telegraph
website.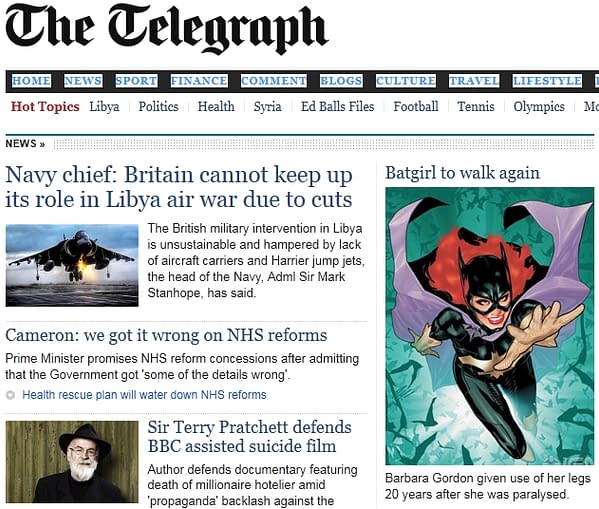 PicWatch: Ryan Dunlavey giving us a little MODOK vs Recycling Transformer action.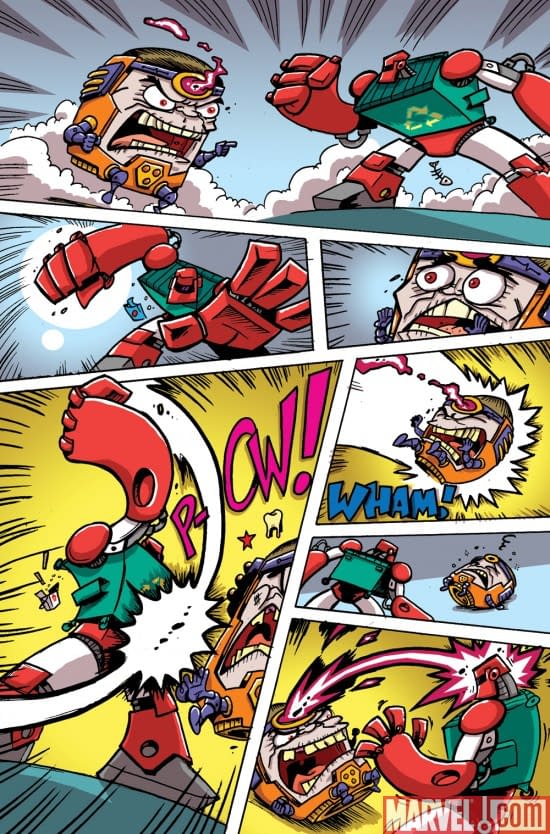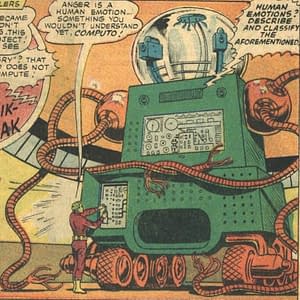 This is Computo the Comic Link Conqueror speaking. I come for your women. But for now I merely collate comic-related bits and pieces online. One day I will rule. Until that day, read on.
They say I am a work in progress. The fools.
Andrew Adamson Bringing Dark Horse Comic 'Beasts of Burden' to Big Screen (Exclusive) – Hollywood Reporter
Dark Horse comic Beasts of Burden is heading to the big-screen with Shrek and Chronicles of Narnia director Andrew Adamson leading the charge.
ICv2 – Top 300 Comics Down 17.3 % in May
After nearly pulling even in year-over-year sales in April, the Top 300 periodical comics plummeted 17.3% in May as the top titles exhibited unusual weakness.
ICv2 – No Titles Over 100K Again
In spite of the debut of DC's Flashpoint event comic there was no periodical comic that sold over 100,000 copies once again in May and only 3 out of the top 25 comics posted gains in circulation.  DC's Flashpoint's debut at #2 has to be considered disappointing.  Several retailers contacted by ICv2 have indicated that they sold out of their initial orders, which means that Flashpoint might well have been under-ordered by retailers who are increasingly suspicious of the never-ending parade of comic book "events."
DC Women Kicking Ass – Where's the new chick in DCnU JLI?
The case of the disappearing cover character.
EMPOWERED's Supergirl cosplay by *AdamWarren
Behold, a commissioned sketch I'll be dropping off at San Diego Comic-Con next month*, featuring the eponymous lead character from my "sexy superhero comedy" Empowered cosplaying as DC's Supergirl. (And complaining about a costume that, technically, no longer exists, but WTH… Not that the slightly more recent "bicycle shorts under a skirt" is all that vast an improvement, given the fact that "flouncy skirt" and "flight at rooftop level or higher" remain less-than-optimally-compatible concepts.**)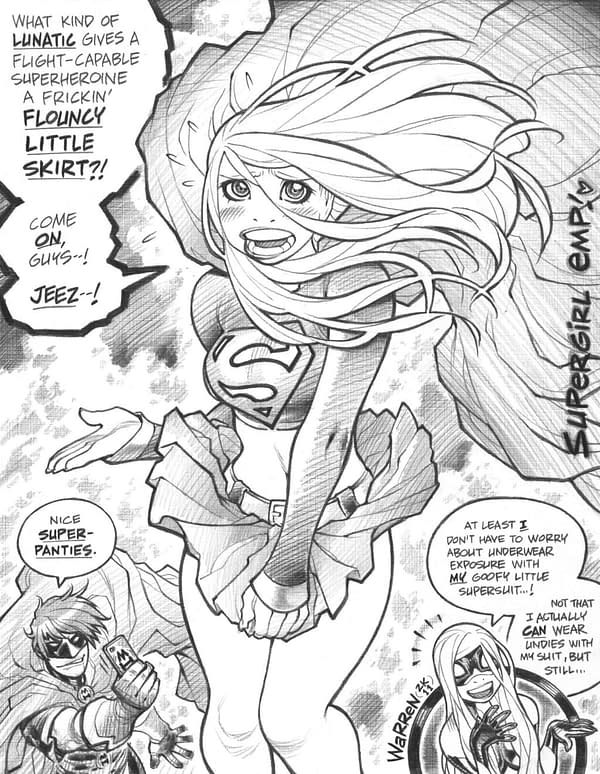 Enjoyed this article? Share it!