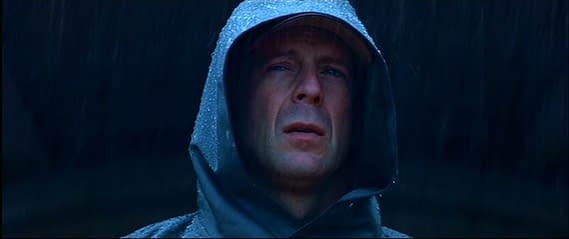 M. Night Shyamalan always promised that Unbreakable was designed as just one movie in a series, comparing it to a first issue in a run of comics, and that he had some great ideas for a follow up waiting in the wings. As time went on, it seemed less and less likely that any sequel would ever show up, however, and it's now looking like Shyamalan has started to realise this himself.
Here's what the Twistmeister general has been telling MTV:
I cannibalized the idea for the sequel to Unbreakable for one of the Night Chronicles. It was such a cool idea for a villain, and it was actually originally in the script for Unbreakable, and it was too much. There were too many villains, so I pulled this villain out and was like, 'I'll make this the second flick.'

I'll just say it: the third Night Chronicles movie is what would have been the sequel. So now I need to come up with a new idea.
Well, maybe not yet. I don't see anybody rushing to give Unbreakable 2 a green light. Not that I don't wish they would.
The first Night Chronicles movie is Devil, due out in just a few weeks; the second will be Twelve Strangers, to be directed by The Last Exorcism's Daniel Stamm, and telling the story of a jury deliberating over a case with a supernatural twist; we know nothing of the third, other than what Shyamalan is teasing here.
Enjoyed this article? Share it!