Due to illness, jobs, children and whatever-else-we-have-that-passes-for-lives, neither Rich nor myself could make it to the press launch for Batman Live today. There was much remorse.
It doesn't mean we don't still want to warn tell you about it (even as it means you should probably take these comments for what they're worth, and that is clearly limited as we don't have any kind of first hand experience).
The show is obviously supposed the be very theatrical, if not downright campy. On the other hand, the organisers promise it isn't a musical, presumably to get in a pop at Spider-Man: Turn Off The Dark and to inure themselves to pubertal audience who think "musicals are gay". Neither is it an ice show, nor is it a piece of traditional theatre but what they're calling "an arena show".
It is to people dressed in Halloween costumes what MonstaTruckaPalooza is to monster trucks.
Here's the first "key image" to be released to the press: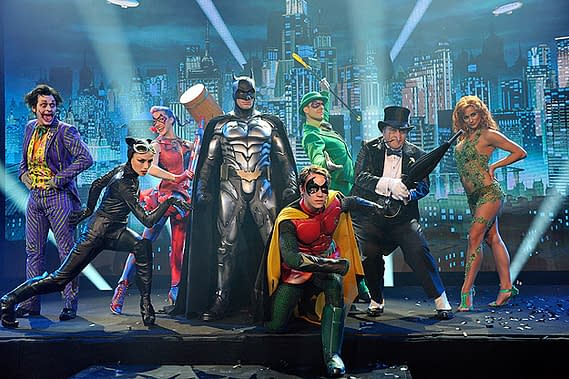 The plot is an origin story, but not for Batman, for Robin. Making the most of Dick Grayson's circus background, this tale tells of how his family were killed, and he went on to become the boy wonder. That's certainly a pretty nifty choice of plotline for this particular conceit. Here's the official explanation of what the show's story will entail:
Faithfully adapted from the DC Comics characters and stories, BATMAN LIVE focuses on Robin's quest for justice, which leads him to follow in the footsteps of his hero, the mysterious vigilante known as the Batman – much to the dismay of his protective guardian, millionaire Bruce Wayne – who secretly happens to be Batman.

This dynamic triangle resolves itself in a non-stop thrill-ride across Gotham City that transforms Bruce Wayne and Dick Grayson into the legendary crime-fighters Batman and Robin and transports the audience from the Big Top of Haly's Circus to the lower depths of Arkham Asylum – from the glittering peaks of the Penguin's Iceberg Lounge to the subterranean wonders that await inside the Batcave, which features a revolutionary, all-new Batmobile designed exclusively for BATMAN LIVE.
Absent in the image above, but apparently set to appear in the show when it starts this July, are Two Face and The Ventriloquist. Oh yes. I can't wait 'til we get a load of them.
This video from The Telegraph will show you some of what went down at the launch event, with The Joker doing his best take on the emcee from Cabaret. Sort of.
Maybe we're jumping the gun a little here and the actual show is going to blow us away with dazzling choreography, wit and invention. Stranger things have happened.
I guess we'll find out this July, in Manchester.
UPDATE: The good guys at Geek Syndicate have collated an awful lot more video, so if you're one of those folk who just can't get enough, pay them a visit.
Enjoyed this article? Share it!