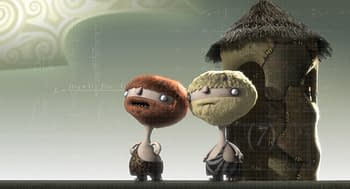 Miles Bullough is the head of TV at Aardman, and was guesting on the BBC's The World This Weekend yesterday to discuss the state of the UK animation industry. It would seem that a difference in tax breaks for big screen and small screen productions is having a terrible effect:
A [film] production gets between 16 and 20% of its UK spend back in the form of a tax credit [and TV gets] zero… if you can start trying to finance a production and say to yourself "Okay, I'm going to get between 15 and 20% back as a tax credit," which is what our French, Canadian and so on competitors can do it would enable us to catch up to those competitors in one single leap.

Without putting too fine a point on it, when a company like Aardman is considering off-shoring stop frame animation, which we are considering at the moment, we haven't made the decision certainly but we are looking at the possibility, something has got to be wrong.
If they do send TV animation off-shore, it won't necessarily mean a step-down in basic quality, just the potential for slight cultural bleed. Bullough uses the example of a cricket game, talking about how hard it was for non-English animators to know what they were supposed to be capturing and representing.
Meanwhile, Aardman have recently released their latest short film to YouTube. It's a winner. Here's the official blurb for Pythagasaurus:
It's the prehistoric Dawn Of Man but even so Ig and Uk are disappointing examples of cavemen. Awaking one morning Ig discovers a previously unnoticed volcano right on their doorstep. He quickly alerts Uk who asserts that the volcano is set to erupt and in doing so destroy their meagre homestead. Who can save them from such a molten plight? In a bewildering disregard for logic the Stone Age duo conclude that their only chance of salvation lies in a dinosaur who's good at maths. Obviously. Without delay they set off on a tortuous quest to find the one and only Pythagasaurus!
And here's the film itself:
Well done Peter Peake, not to mention voice artists Bill Bailey, Martin Trenaman (are those two joined at the hip or something?) and Simon Greenall.
And, finally, just one more drop of Aardman news. The studio has donated a series of sketches to a charity auction for their own Wallace & Gromit's Grand Appeal, raising funds for Bristol's Children's Hospital. Here's the catalogue – but be aware, you only have until November 10th to bid.
Richard Williams' sketch of Roger and Jessica Rabbit and Baby Herman is just about the most beautiful thing. If I were a rich man…
And I'm still not done with Aardman, not really. Arthur Christmas is out this Friday, so I'll have some coverage of that coming along later in the week, including an interview with screenwriter Peter Baynham.
Enjoyed this article? Share it!