Wednesday Runaround – Is It Batgirl? Or Is It Karen Gillan?
RedundancyWatch: As MTV Splashpage lets Rick Marshall go as editor-in-chief, he posts a picture of his empty desk…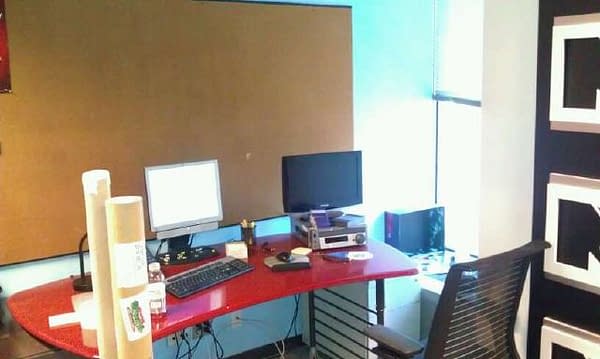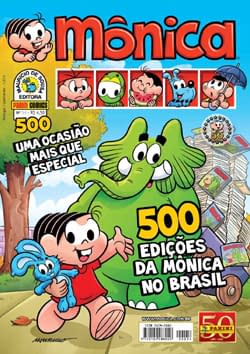 HalfMillenialWatch: Brazilian comic book Monica's Gang reaches 500 issues.
Without a relaunch in sight.

ScotWatch: Next Monday at 10pm on BBC Two Scotland only (accessible through Sky.FreeSat/iPlayer to the rest of the UK), Artworks Scotland.
Scottish writers Mark Millar, Grant Morrison and Alan Grant are three of the biggest names in the world of comics. Between them they have created adventures for Batman, Superman, Judge Dredd and The X Men, and the plots of films such as Wanted and Kick Ass. ArtWorks Scotland tells the story of how Scots took over these American icons and also uncovers the world's first comic strip in Glasgow's Mitchell Library.
TwelveWatch: Chris Weston reports on the latest for the late Twelve series from Marvel.
"I now have the first five pages of the script for Issue twelve, the final chapter. I will be starting on it as soon as I've set up my new Apple Mac."
BadWatch: Bad Press, Alan Grant's publishing outfit, of titles such as Wasted, is no more, sending a "wrapping up" e-mail to contributors.
DCRelaunchWatch: Shortpacked looks at the recent redesigns of the DC Relaunch and finds both backstory and inspiration. Love those tongues…
This is Computo the Comic Link Conqueror speaking. I come for your women. But for now I merely collate comic-related bits and pieces online. One day I will rule. Until that day, read on.
They say I am a work in progress. The fools.
Marvel Secretly Bringing 'Avengers' to Comic-Con with SHIELD Viral « FirstShowing.net
After publishing, a few tweets from Entertainment Weekly blogger Anthony Breznican confirmed more: "I'd put money on an 'oh, and one more thing …' Avengers teaser trailer being shown." That gels with what we've heard. Additionally, fellow movie blogger Erik Davis tweeted (and later removed) about getting this information from a recent set visit for The Avengers, which we were not a part of. Our source was not on the set visit, therefore we can presume most of this is accurate and Davis heard the same but is not allowed to say anything. So there you have it – Marvel is bringing The Avengers to Comic-Con after all!
Comic-Con 2011: 'Captain America' on Mission to San Diego (Exclusive) – Hollywood Reporter
Well, there will be no panel, but Heat Vision has learned that, while details are still being worked out, Marvel and Paramount, which is distributing the film, are planning a military salute that would involving star Chris Evans and soldiers stationed in San Diego. Evans would also attend the Con to do to signings at the Marvel booth. Additionally, whispers suggest a special Con screening of the film.
DC Women Kicking Ass – First look: Cover of Batgirl #2 by Adam Hughes
"Is it me or does she look very young?"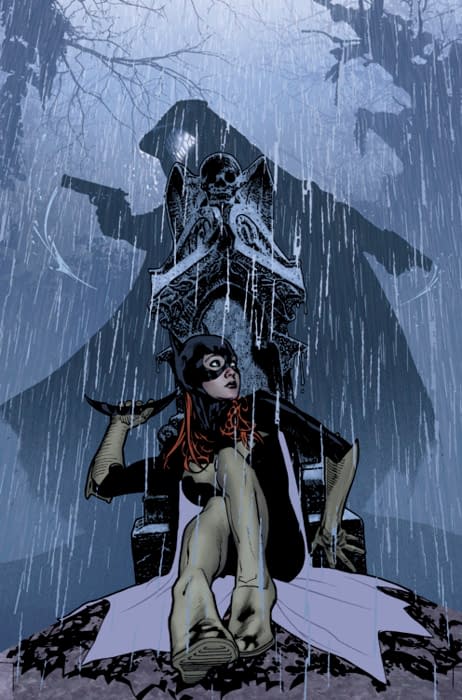 [Rich adds: Is it me or does she look a little like Karen Gillan?]
Conan UK trailer.
7 Famous Movie Cars Redone As Pixar Characters | NextMovie

Producing Captain America: The First Avenger | Captain America | Movie & TV News | News | Marvel.com
"Research that the studio's been working on shows it's not as big a concern as pessimists would think," Feige said. "This movie is about Steve Rogers. It's the emotion you get when you see that kid–who up to that point in the movie was a very scrawny young guy–coming out of the pod [with] his wish fulfilled. That will hopefully identify him with everyone, regardless of the fact that he'll wear red, white, and blue throughout the film."