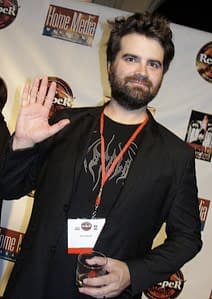 One of the scripts to make last year's Black List of hotly-touted screenplays was Everly by Yale Hannon, a film pitched as Panic Room meets Crank.* It is, if you'll pardon a daft pun that you'll get in a paragraph or two, wall-to-wall action.
The story credit for the film goes to Hannon and Joe Lynch, who will be directing. All of this we knew since the script went on the market, but today, it has been announced that the film has secured financing and will go into production in the winter.
In their article to this effect, Variety give the following bit of set up:
Everly centers on a down-on-her-luck woman, stuck in her apartment, who must fend off waves of assassins sent by her ex, a dangerous mob boss.

Pic is set entirely in one room and based on a concept created by Lynch. Crime Scene is talking to female leads and expects to begin lensing in New Orleans in winter. Yale Hannon pens the script, which was on the Hollywood Black List.
I can tell you that this isn't actually all correct. For starters, the film isn't set all in one room at all. It's not even set entirely in a single apartment, as the odd little bit takes place in the immediate surroundings – though it might spoil too much to tell you exactly where. However, the camera never leaves this one apartment. It can look out into the corridor or wherever, but it always stays in the few basic rooms of the apartment where we first meet Everly, even while characters come and go.
Variety have a couple of other things slightly off but I'm staying schtum for now, just to maintain some surprises.
I will tease that it's a Christmas film, however, so at least the actors will feel appropriately cold when shooting in New Orleans over winter.
I simply can't wait to find out who will be cast as Everly. It's a very dynamic role, and the actress is going to be put through the wringer, but I promise you that she's going to come out this with a dedicated cult following. Who is to now as Pam Grier was to 1971? Or could this see Lynch reunite with Summer Glau?
Everly will be Joe Lynch's third feature film, coming after Wrong Turn 2 and the upcoming LARPers vs. demon action-splatter-comedy, The Knights of Badassdom. Sandwiched between Knights and Everly will be Zombie Movie, his short contribution to the anthology picture Chillerama.
*I think there's more than a dash of Kill Bill in there too, or at least some of the same spices that the Kill Bill blend was mixed from.
Enjoyed this article? Share it!