What We Learned From Harmony Korine's Spring Breakers Commentary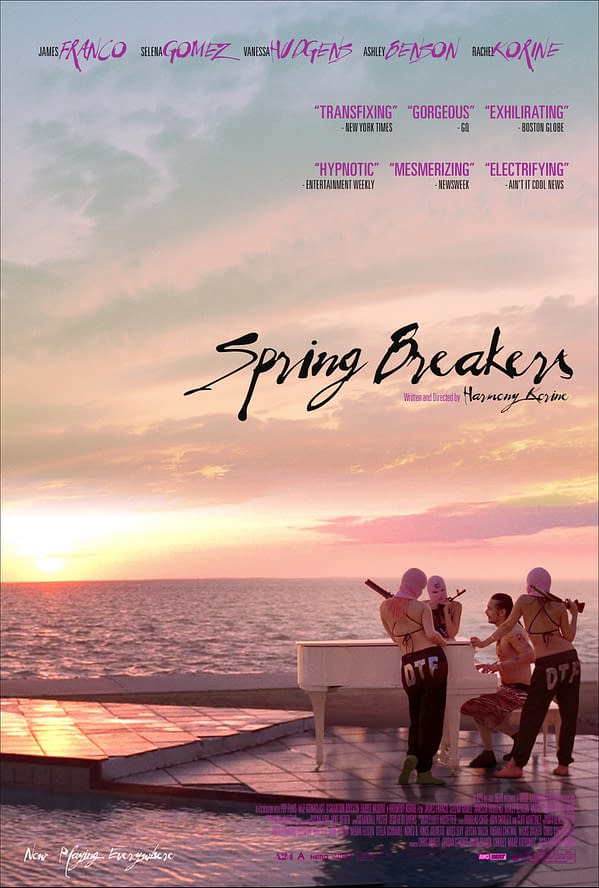 Spring Breakers is out on DVD/Blu-ray in the UK on the 12th of August. It's already out in America though and I've imported it from there. The American Blu-ray is region locked so if you're thinking about importing it to the UK make sure you can play American Region A discs first.
One of the big selling points for the disc for me, apart from the desire to watch the film again, was the range of extras on the disc, including a commentary from director Harmony Korine. I've collected some of the best moments from the commentary but I can definitely recommend checking it out on the disc. Korine does have a habit of stating the obvious at times but there's also some good stuff in there.
Korine begins the commentary by discussing the early beginnings of Spring Breakers,
I had been collecting Spring Break images for a while. Just pictures I had got from fraternity sites, from message boards. Even co-ed pornography. Stuff of just teenage debauchery. People on the beaches in Florida going crazy. Classic American iconography. Just the most debauched behavior.
On the look of the film,
The whole film the idea behind a lot of the lighting was that it has these candy colours, this kind of neon. It's pushed into something kind of hyper. Extreme, kind of candy colours. It's a kind of culture of surfaces. It's a lot about the way things look and feel.
According to Korine Val Kilmer was originally supposed to play the part of Faith's (Selena Gomez) preacher, a part which eventually went to Jeff Jarrett, but he got sick and had to drop out.
Korine comments frequently about how much the girls improvised the "mayhem" but also comments that he doesn't really like the idea of describing things as improvised as the dialogue was always based on existing ideas. Alien's (James Franco) dialogue for instance.
He also mentions that a lot of the Alien character comes from Franco spending time hanging out with Dangeruss, who also has a small part in the film.
[youtube]http://www.youtube.com/watch?v=3N6CCOSEEFQ[/youtube]
Talking about one of Alien's monologue's,
Again it's gangster as religion. A spiritual gangster.
Later in the commentary he also refers to him as
a cosmic gangster
They shot enough footage for the Look at my Shit scene to make a 35 to 40 minute scene.
One theory that has been floated a few times in relation to Spring Breakers has been that the film is heavily inspired by the life of Britney Spears and is even perhaps a retelling of aspects of her life. Touching on Britney and the girls singing her songs Korine says,
…This idea of Britney Spears becoming a theme. She's like a precursor, a predecessor. Some type of connection to them. A weird kind of pop culture umbilical cord or something. She becomes a theme.
And later in the commentary he comments that,
I always kind of thought of the girls as being four parts of a whole in some ways. In some ways they all represented a different kind of piece of the puzzle. Almost like one entity.
Which also plays into the 'Britney Theory' to some degree.
I wanted to make a film that you could kind of feel, that was something physical, something that was more of a post-articulation. More explicable. About a feeling, a strangeness, the idea that you'd been to these places, seen these things, felt these things. Something distinctly, uniquely American I think.
Korine often goes back to the idea of the girl's bodies being sculptural. Particularly, of course, the shapes they create when they do handstands.
It was never meant to be real, an essay or an indictment in any way… A more impressionistic reinterpretation of this world and these characters. So certain things are pushed into a different realm. Something that's almost a fever dream or something. More hypnotic. More kinda emotional, transcendent.
On the naming of Gomez' character Faith,
I named her faith because she was the most obvious and the least ironic. One the nose the whole time and I just thought she should be called Faith.
Korine doesn't mention the costume design too often on the commentary but in case you were in any doubt, DTF on the girl's trousers stands for "Down To Fuck" and the pink ski masks with unicorns on came to Korine "in a dream".
Speaking over the Britney/robberies montage,
…the movie going from something so beautiful to something so horrible, menacing. Sometimes being confused as to what is what. That's a lot of what the film is. Sometimes it's nice to play with ideas and things that are morally ambiguous. Sometimes it's more interesting to try to explore things in that way.
Korine also states at one point that,
I never wanted you to be comfortable
Something he often succeeded with in with Spring Breakers.
The US disc is available now, with the UK release to follow on August 12th.