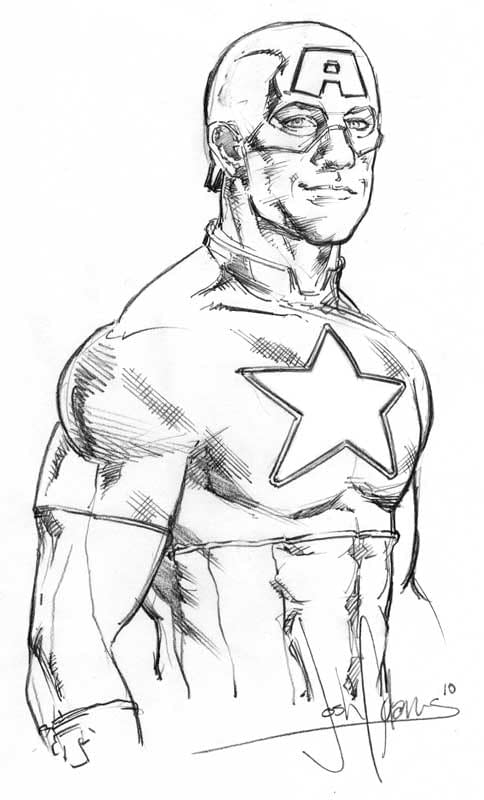 When hearing about John Krasinki being a casting choice for Steve Rogers my friend, Matt Bergin, defined the universal response by those who heard, "staring directly into the camera blankly." However, after some thought we both agreed it was actually a pretty good choice.
Think about it, he's six foot three inches tall, and while he may not be Brad Pitt or Mark Valley, he somehow catches the camera's attention? Throw him in the gym for a month and he goes from Jim Halpert to Steve Rogers. The same was said about Tobey MaGuire when he was cast as Peter Parker but he filled in, or at least they made it look like he did. When the late Heath Ledger was cast for the Joker, people flipped out…now? People are touting it as nothing short of amazing! Lets give him a chance.
Change of subject: Nick Simmons and the "Bleach"ed Lightbox
So that's how comics are done?! I was drawing my own pictures. Man, that's waaaaay easier. If that's how it's done it begs the question…how was the first comic drawn? Well, it doesn't take a genius to know that I think this is ridiculous, stupid, and inconsiderate on so many levels. I was tempted to put my response on the forums like everyone else but I figured it was time for an open letter, since Radical decided to make an open statement themselves:
"Dear Nick and Radical Publishing,
You probably don't know me very well…actually you probably don't know me at all. My name is Josh Adams. My father is Neal Adams and he's kind of a big deal. I heard about this project that Mr. Simmons is working on and in fact it really got me to notice Radical as a publisher, then I heard about the whole copying other people's work and it made wonder 'did you guys even check to see if he could write and draw a comic?' Did you just throw a contract at him cause his father was famous? I mean is that really how it work for you guys? If so then I have one thing to say to you…I have got a pitch for a comic you wouldn't believe!!!
Okay, let me hit ya with this: We have this sort of awkward teen, parents are gone, murdered outside of a theatre (you're gonna love this) and lives with his Aunt and Uncle and gets bit by a radioactive spider! After a death in the family he vows to destroy the Empire by blowing up the Death Star! (It's not plagiarism, I used multiple sources like they taught me in high school!)
I know what you're gonna say, I'm not tested, and how can you trust I can do this? You can't, but that hasn't stopped you yet so lets do this, also you can own the property and the liability, I'm not selfish.
Now, Nick, I'm gonna be serious with you. What were you thinking?!? In any industry there is what is considered paying your dues, I do, everyone does it, then you saunter in, son of someone important and go ahead and disrespect the whole industry. It's not the best first step in the world, but thankfully you're probably insulated from having to deal with this. I'm sure the publisher is taking the heat for you. However, I got news for you, this isn't a playground, this is people's lives, this is how they pay the bills and put food on the table for their family. You've gone and disrespected the work of Tite Kubo and have set to gain from his effort. You should apologize, you and the publisher should distribute the proceeds of the book to those you so selfishly copied.
I understand, you wanted to do comics but it's harder than you thought. That's why you have to pay your dues and thats why publishers shouldn't just bend to the will of someone with a name. I am thankful I paid my dues. I am thankful that I worked endless hours as a child so I could learn how to draw. I'm glad my father was just as hard as me as he is on any artist, tougher even! I'm thankful publishers made me work. I'm thankful because that makes me not you.
It's time to pay your dues, it's time to fess up, it's time to be a good person. Earn your spot on your ability, not your name.
Sincerely,
Josh Adams (the name isn't a gift, it's a reputation.)
I'm trying to get back into the swing of doing articles, so hopefully the next one comes soon. Thank you all for being patient.
P.S. – Thanks to everyone's support and buzz and passing my art and articles around, I will be a special guest at this years San Diego Comic Con, so thank you all for helping make that happen!!!
Enjoyed this article? Share it!